Harderclass Rebelion Masterclass 2020 [TUTORiAL]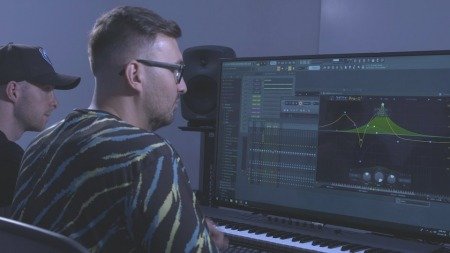 AudioLove Exclusive | 21 June 2021 | 1.8 GB
In this 3 hour Masterclass you will sit in the studio next to Rebelion and have them explain to you exactly how they approach music production. Gary & Raymond will show you in full details how they build Kicks from scratch, build Screeches, build their signature Drops from scratch, they will show you a finished Rebelion Kick and exactly how they made it and they will give you massive tips on how to build your artist profile as a beginning DJ/Producer. Going into how to approach social media, the right mindset to have and evolving your sound. Plus they will walk you through how they made their tracks "BASSLINE JUNKIE" and "NEVER BACK DOWN" covering important topics like sound design, filtering techniques, EQing and of course distortion.
Topics covered in this Masterclass
Making a Kick from scratch
Making Screeches from scratch with Serum
Making Screeches from scratch with Sylenth
Dissecting the Rebelion Kick
Creating the Kick Tail
Creating the Kick Punch
EQ Matching Kicks
Building a Drop from Scratch
Creating new sounds from existing sounds
Track Walkthrough of BASSLINE JUNKIE
Track Walkthrough of NEVER BACK DOWN
Mixing
Marketing yourself as an artist
Discovering your own style
Mindset of an artist for success
Focusing on the right things
Social media
Evolving as an artist
Track selection in your sets
Staying innovative
FX
Leads
Distortion
EQing
Included resources in this Masterclass
Rebelion Presets
Rebelion Kicks
This exclusive release was generously supplied to us by our member
Thank you for supporting AudioLove!
home page
Only registered users can see Download Links. Please
or login.