GeoSynths Oracle Vol.2 for Prophet 12 [Synth Presets]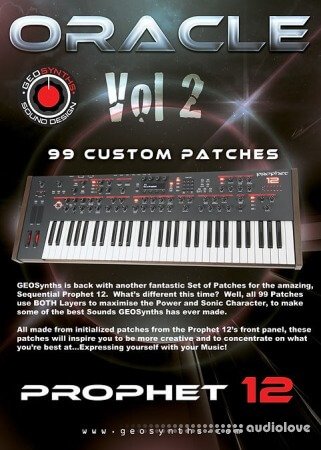 P2P | 31 August 2023 | 584 KB
When I started making Vol 2, it seemed like the very first few Patches I made were all using both layers to create something...More. So I decided to make sure that all 99 Patches used both layers to maximize the Power and Character of the Prophet 12.
99 Patches later...And I'm not disappointed, as they've turned out to be some of the best Sounds I've ever made. From Warm Pads with Overtones and Textures, to Cutting Leads and Solid Bass, from Poly Synths with a Rich variation of tone to Electric Piano's that shine.
​Of course, as most of the Sounds are using both Layers in 'Stack' mode, this will reduce the Polyphony down, however you can always turn the Stack or Split off and use each layer separately.​
While the Prophet 12 came out in 2013, there has since been a huge amount of Synthesizers released, both Analog and Digital, some have great Features, though can sometimes sound the same.
The Prophet 12 is a Monster of a Synth, more than capable of showing the new Synths a few things or two...or three..or...
I hope you enjoy playing these Patches and using them in your Music, they're ready to go and have lots of tonal variation with the Controllers.
home page
Only registered users can see Download Links. Please
or login.