Ultimate X Sounds NUCLEUS Access Virus Ti [Synth Presets]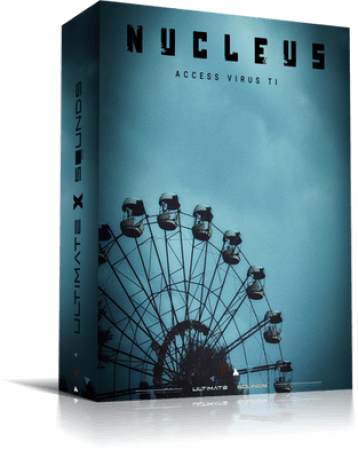 P2P | 31 August 2023 | 29.58 KB
INSPIRED BY HBO SERIES Chernobyl
Nucleus is the first presets collection inspired by the TV series.
Some of the sounds are directly inspired by the music from the " CHERNOBYL " HBO show.
However, we did not want to stop there and went a step further.
Also in style of :
" Dunkirk " by Hans Zimmer
" Silent Hill " by Akira Yamaoka
" Luther " by Lorne Balfe
" Ex Machina" by Ben Saligburg
" 1899 " by Ben Frost
"The Last of Us " Dawid Fleming
Stylistically they fit into the cinematic, dark ambient, but if you have imagination, you can use these sounds in any genre.
Expand your sound palette with over 242 ( 65 presets in MINI Version ) uniquely crafted Bass SEQ, Drones, Ambient Pads, dirty Leads and futuristic Textures for your next epic Sci-Fi : TV-GAME-FILM music soundtrack.
Great care has been put into creating these complex and evolving drones, pads, basslines that are perfectly suited to set the tone of your apocalyptic sci-fi worlds.
Whether you want to create moments of mystery, disturbance and tension or if you just need evocative backgrounds to build dystopian worlds this collection has you covered.
These sounds will be of great help in you Film & Game music production
Additional information
​
- HARDWARE ; Access Virus Ti
- LICENSE : one user
- FORMAT : 2 x mid
- Style : Electronic music
- Number of patches : 242 PATCHES + 10 BONUS
- Mod wheel assignments ( depends on the patch )
" MUSIC "
I'm in the process of writing music for secret project.
I thought that there is no better way to present " NUCLEUS " sounds than to show you a fragment of the soundtrack I'm working on.
Even though the demo is still very early stage of production and without any additional effects, I hope it gives you a little idea of what "NUCLEUS" is all about.
Before you start listening to this Audio & Video demo, please take the full 5 minutes to listen to it.
Don't interrupt or rewind it.
Try to focus on what you hear.
All sounds ( beside choir and Strings ) are tweaked 100 % on Access Virus Ti
TECH INFO :
For this demo I didn't use any external effects other than a compression on a few tracks and bus.
! Voices, Choir and Strings are not part of this " NUCLEUS " library !
LIST OF PRESETS USED FOR MAKING THIS MUSIC :
SQ 028 - SQ 051 - SQ 048 - SQ 052 - SQ BONUS
PERC 05 - PERC 10 - CHER 001 - CHER 003 - CHER 007
X Protakty - X Hydrator - X Mindful - X 4 Justic - X WARING 1
X D.Piano - X Ethernal - X Has
X The Room - X R.A.Radi - liquidator - SFX 8 - PADS -
- Bh - Au - Lu - Ra - Hf - H - Na - Nb - Rf - Sr -
home page
Only registered users can see Download Links. Please
or login.