Truefire Jeff Denson Blues Bass Crossover [TUTORiAL]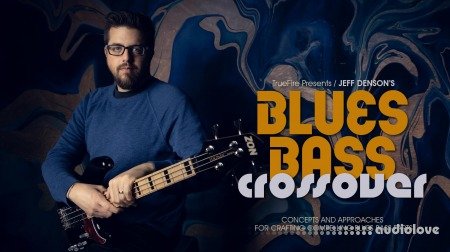 P2P | 04 November 2020 | 3.3 GB
The Blues is one of the most loved and recognizable forms in all of popular music. But the essence of the blues isn't limited to a 3-chord, 12 bar structure. The Blues is a powerful construct of harmonic and rhythmic elements we can easily draw from to craft bass lines across Rock, Jazz, Funk and any other style of music you play.
Jeff Denson's Blues Bass Crossover, will explore applications for some of his favorite blues elements, across ten different performance studies in a variety of keys and styles. Each of the studies focuses on feels from some of the most popular songs played at gigs and jam sessions every day.
"Blues is a word that has different meanings to people when they hear it, and understanding their meaning depends on context. Blues is a style of music that is at the core of almost all US American music, from jazz to rock, funk, folk, country, bluegrass and more.
When referred to as a style, names like Robert Johnson, B.B. King, Albert King, Buddy Guy, etc. come to mind, but even then, there are technically different sub-styles within, such as "Delta Blues," "Texas Blues," "Electric Blues," etc. Sometimes the word refers to a sound or inflection heard in a musical phrase sung or played by a voice or musical instrument, like the bending note. It can be used when talking about music theory, as in the "blues scales" or the use of "blue notes." This course delves into looking at the "blues" as a musical form."
Jeff kicks off the course with a handful of traditional electric blues jams like Walkin' for the King, Albert's Saw, and the Windy City Shuffle. You'll then shift focus to blues applications for rock grooves played by groups like Led Zeppelin and Cream. Then you'll examine funk flavored blues grooves with studies inspired by James Brown, Herbie Hancock and the Headhunters, and then round out your studies with both major and minor jazz-blues forms.
home page
Only registered users can see Download Links. Please
or login.