Truefire Kirk Fletcher Trueheart Blues Soloing [TUTORiAL]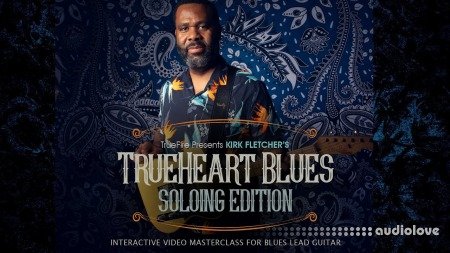 P2P | 07 November 2020 | 3.38 GB
Interactive Video Masterclass on Blues Guitar Soloing
A great solo is an extension of the song -- it's memorable, it's hummable, and it's unique to the soloist and the way he or she tells a story. Players like B.B. King, Albert King, Otis Rush, Chris Cain, Larry Carlton, and Robben Ford all have an almost vocal-like expressiveness in their soloing and it makes them immediately recognizable.
A follow-up to the highly-rated Rhythm edition, this Soloing edition of TrueHeart Blues, Kirk Fletcher shares a collection of his philosophies on soloing and improvisation, a few go-to scales and licks, and he'll hip you to some of the influences that inspired him at a very young age and helped form his personal approach to soloing on the guitar and telling his own story on the instrument.
"We'll work on key approaches like building motifs out of major and minor blues scales, outlining changes, incorporating gospel sounds, swing & chicago blues influences, vibrato, bending, dynamics, and a lot more. Working with live band backing tracks, we'll play our way through 10 soloing studies across a variety of feels and keys and I'll point out some of the key highlights from each. We'll wrap up the course with a trio of solos I'll play over some tunes from my own records. We'll solo over "El Medio Stomp", "Two Steps Forward" and "Times Tickin'"."
Kirk will explain and demonstrate all of the key concepts and approaches along the way. You'll get standard notation and tabs for all of the performance studies. Plus, you'll be able to use TrueFire's learning tools to sync the tab and notation to the video lesson. You can also loop or slow down the videos so that you can work with the lessons at your own pace. All of the backing tracks are included to work with on your own as well.
Grab your guitar and let's get started with Kirk Fletcher!
Includes
43 Video Lessons
23 Charts (.pdf)
13 Jam Tracks (.mp3)
23 Tabs (.gp5 or .ptb)
Runtime: 01:54:28
home page
Only registered users can see Download Links. Please
or login.