Kits Kreme BUNDLE 23-in-1 [WAV, MiDi]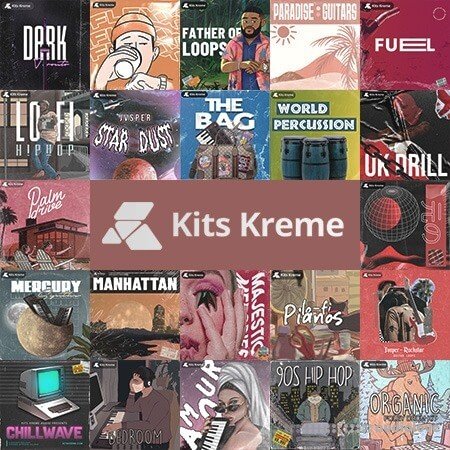 DISCOVER | 20 November 2020 | 4.11 GB
Bundle 22-in-1 contains the 23 sample packs by Kits Kreme. Kits Kreme is a diverse sample label bringing together producers and sound designers from different walks of life. We are ambitiously determined to push the music industry to its limits by empowering producers to live up to their fullest potential. Our goal is to provide innovative sample libraries, resources & tools to assist producers in their journey to achieving their dreams.
List:
Kits Kreme Audio Jvsper Stardust WAV
Kits Kreme Audio Dark Toronto WAV MiDi
Kits Kreme Audio Fuel WAV MiDi
Kits Kreme Audio Paradise Guitars WAV
Kits Kreme Audio Father Of Loops WAV
Kits Kreme Audio Lo-Fi Hip Hop WAV
Kits Kreme Audio Flexx WAV
Kits Kreme Audio The Bag WAV
Kits Kreme Audio World Percussion WAV
Kits Kreme Audio UK Drill WAV MiDi
Kits Kreme Audio Palm Drive WAV
Kits Kreme Audio Organic Foley Drums WAV
Kits Kreme Audio Noir Deluxe WAV
Kits Kreme Audio Mirage Collective WAV
Kits Kreme Audio Mercury Synths WAV
Kits Kreme Audio Manhattan Jazz Hop WAV MiDi
Kits Kreme Audio Majestic Melodies V2 WAV
Kits Kreme Audio Lo-Fi Pianos WAV
Kits Kreme Audio Jusper Rockstar Guitar Loops WAV MiDi
Kits Kreme Audio Chillwave WAV
Kits Kreme Audio Bedroom Sessions WAV
Kits Kreme Audio Amour Beats WAV
Kits Kreme Audio 90s Hip Hop WAV
Music Producer Jvsper presents 'Stardust'. A melodic loop pack containing 20 original compositions with over 60 instrument stems. Launch into this sample pack full of dreamy, spacey & melodic loops.
'Dark Toronto' contains 5 radio-ready construction kits. Each kit was composed by our in house RIAA certified multi-platinum producers and sound designers. This pack was inspired by some of today's hottest producers and rappers from Toronto such as Boi-1da, Sean Leon, Wondagurl, Roy Woods, Eestbound and more.
'Fuel' contains 5 radio-ready construction kits. Inside you'll find a suite of Trap/Hip Hop loops categorized into piano, bass, keys, 808s, kicks, snares, claps, hats and more. This pack was inspired by some of today's hottest producers and rappers such as Yung Bans, Playboi Carti, juiceWRLD, Richt The Kid, 21 Savage & more.
Summer is approaching which means the billboard charts will soon be packed with summer hits. If you have hopes of landing a song on the summer charts now would be the perfect time to get started. Luckily, the sound of summer is just a few clicks away with 'Paradise Guitars'.
'Father of Loops' contains 30 authentic, melodic loops. These loops were inspired by Dj Khaled's new album 'Father of Asahd & by producers such as: Cubeatz, Frank Dukes, Dj Khaled, Tay Keith, & Wheezy. Loops are ready to be dragged & dropped, chopped & sliced, and flipped in your DAW of choice.
'Lo-Fi Hip Hop' was inspired by lo-fi legends such as: J Dilla, Nujabes & 9th Wonder. From chilled to jazz we made sure we included everything you need to make your next Lo-Fi track. All samples have been processed and edited using professional outboard gear to ensure authentic analogue warmth and of course, all files are Royalty-Free.
Grab immediate inspiration for your next Hip Hop or Trap project with 'Flexx'. Explore the extensive selection of melodic loops to help you jump start your next track. Set the tone with one of the already mixed drum loops.
'The Bag' brings you 100 new & unique high quality Hip Hop & Trap drum sounds, all processed and EQd to perfection. This pack will provide you with a large variety of fresh new drum sounds to add something different to your next production.
'World Percussion' is a collection of loops and one-shot samples created by a variety of percussion instruments from around the globe. Included in this collection of world percussion are loops and hits from Africa, India, Latin America and the Middle East. Use these rhythmic samples to add a taste of culture to your next project.
'UK Drill' was inspired by Chicago drill rap however over the years it has formed its own identity with its unique signature sound. The genre has continued to grow with billboard artists such as Drake and Travis Scott beginning to tap into the UK drill sound. This kit comes with 50 Loops, 78 Drum One-Shots, 47 WAV Stems, and more!
'Palm Drive' explores the timeless and authentic sounds of early Soul & Hip Hip. Included in this library is 14 original compositions with melodic stems, 9 drum breaks, and 25 vocal phrases and chants.
To begin the creation of the pack 'Organic Foley Drums' we started by recording numerous natural sound effects from nature trails along New England. Then we recorded raw natural drum sounds and mixed the two together.
'Noir Deluxe' explores the aesthetic sounds from Soul, Jazz, and old school Hip Hop. This pack is stacked with inspirational melodic compositions that feature soulful chord progressions layered with funky melodies. Piano Loops feature raw dry piano recordings ready to be drenched in your personal favorite effects.
'Mirage Collective' brings you a collection of warm melodies, dusty drum loops, and a variety of organic one-shot drum samples. A fresh batch of Hip Hop, Soul, & Jazz samples.
The idea was to create memorable melodies with rare analog synths. Warmth, depth, emotion and texture define this sample pack. Included is 20 melodic samples along with individual stems. On top of that we've including a few bonus loops to keep you intrigued. 'Mercury Synths' is ideal for those looking to add some rare synth patterns into their library.
'Manhattan Jazz Hop' pack pulls inspiration from New York City during the 1900s when Jazz and Hip Hop began to emerge the city. This pack blends the two genres together resulting in smooth jazzy melodies layered with hip hop grooves. It contains live recorded Saxophone samples as well as live recorded piano melodies.
'Majestic Melodies V2' contains a wide variety of melodic loops & compositions. From trippy atmospheric melodies to downtempo nostalgic vibes. We used a variety of instruments to create this pack including analog synths such as the Roland Saturn.
'Lo-Fi Pianos' includes 50 lo-fi piano loops. Inside you'll discover dry piano chords which allow you the freedom to add your own effects and textures. You will also discover lush piano melodies that paint an aesthetic scene.
'Jusper Rockstar Guitar Loops' - Guitar loops are making a rise in the Hip Hop genre. Rising artist such as Ian Dior, Trippie Redd, $uicideBoy$, Lil Tracey, & Lil Uzi Vert have been showcasing a heavy influence of guitar in their latest releases.
'Chillwave' contains 60 retro styled samples created specifically for Synthwave, Chillwave, & Vaporwave. Start off by downloading one of the detuned melodies to set a nostalgic vibe. Discover drum loops that provide you with a groove and foundation, or download one of one shots to make your own chillwave styled drum patterns.
Almost everyone in the world has been affected by the COVID-19 outbreak in some way. A lot of people have been recommended to stay home for a lengthy amount of time. On the bright side this can be very beneficial to producers, artists, and Djs. It gives us more time to create, experiment & work on our skills. 'Bedroom Sessions' was inspired by the fact that most people will be creating music from their bedrooms over the next few weeks. This library is full of warming tones, comforting melodies and soothing soundscapes. Setting the mood and vibe for those bedroom cookups.
Amour is French for love. French is known as the language of love. 'Amour Beats' is the sample pack full of smooth love melodies & musical elements. Dive in and download one of the 56 tasteful melodic loops to get a vibe going immediately. Or download one of the flawlessly mixed drum loops to set your groove. Experiment with a range of versatile elements to spark new ideas.
'90s Hip Hop' - this old school sample pack is for the crate digging hip hop 90s babies. Influenced by sounds of legendary hip hop artists such as J Dilla, Dj Premier, and Dr. Dre. This pack adopts the style and characteristics of 90s Hip Hop. However, we also infused these samples with modern-day flavor and melodics.
home page
Only registered users can see Download Links. Please
or login.