Insusurro Dark [KONTAKT]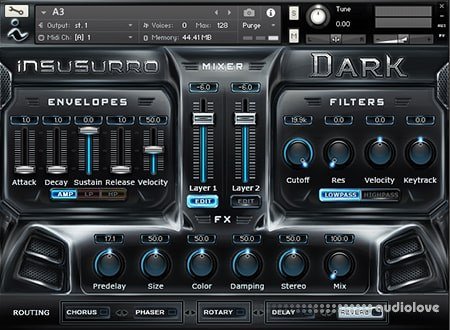 P2P | 01 December 2018 | 7.21 GB
Dark continues the theme of pads, but with Dark we delve into the world of dark and hard sounds. With Dark we've included rhythmic loops. There are 474 tempo synced rhythmic patches and 236 non RYM patches. 4846 Samples. 7.22gb in size.
We tried the sounds of Pure and Dark with rhythms and thought they sounded really good, so we've included loops and we intend to expand on the loops to complement the pads.
The trilogy of Pads, Dark and Pure and our ongoing updates, all 3 libraries will continue to grow in size, just like Pads has now grown to around 8GB in size.
Making Dark we used the following items:
- Waldorf Wave
- Roland MKS-70
- Yamaha FS1r
- E-mu Emulator 2 x
- Korg Wavestation Ex
- Sequential Curcuits VS
- Roland JP8000
- Kurtweil K2600rs
- E-mu proteus 2000
- LOTS OF EXTERNAL EFFECTS
- An electric guitar
- A microphone underwater
- A 6 year old girl
- A 3 Year old boy
- A 36 Year old opera singer
- A 40 year old old man
- A Mac computer
- Another Mac computer
- A Dell PC
- Another Dell PC
- A home made PC
- A lot of hard drives
- A guy from Croatia
- A guy from Turkey
- A guy from America
- And a guy from Austria!
Native Instruments Kontakt 5.3 full version or higher
home page
Only registered users can see Download Links. Please
or login.