Sononym v1.3.1 X64 / v1.0.4 [WiN, MacOSX]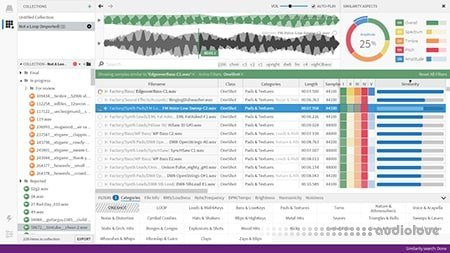 WiN: P2P | 09 July 2022 | 86.4 MB
MAC: P2P | 09 May 2019 | 82 MB
Sononym represents an innovative approach to sample browsing, using machine learning and audio feature extraction to make personal sample collections searchable and discoverable.
The primary innovation in Sononym is called "Similarity Search", a special search mode which accepts any sound as the input, and finds relevant sounds throughout your sample collection. Using this approach, it's even possible to connect a synth, guitar or microphone to locate samples by recording new sounds on-the-fly.
In addition to this, the software offers many other features that you would expect from a sample browser, such as fully searchable and sortable file/results views and a modern, streamlined user interface.
Version 1.3.1

Fixed: Potential layout shift when side-panel contains many items
Fixed: Crop-on-drag: audio encoding not supported by Ableton Live
Fixed: Right-arrow not triggering preview in results-table
Fixed: Shortcut for deleting files without prompt not working
What's New (Sononym 1.3)
Faster access to libraries
Select and Search/Export Audio Regions
Favorites, Quick and easy
Support for system clipboard
New Columns: Date Added, Crest Ratio
Changed Filter Panels
Improved handling of missing files and folders
New keyboard shortcuts
Other tweaks and bug fixes
(Sononym 1.2)
Upgraded Internals
Improved Text Search (Synonyms)
Additional File Name Columns
More Customizable Collections
Faster Audio Preview
Smooth scrolling on touch/trackpads
Improved drag and drop in Windows
Other tweaks and bug fixes…
home page
Only registered users can see Download Links. Please
or login.