Arturia Pigments v1.2.1 / v1.2.1.617 [WiN, MacOSX]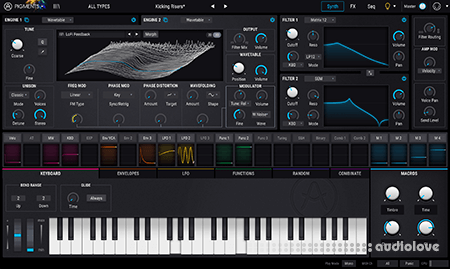 WiN: Team R2R | 11 September 2019 | 113 MB
MAC: Team CASHMERE | 20 November 2019 | 220 MB
Arturia has announced its latest software synthesizer Pigments, a hybrid "polychrome" instrument that features hugely powerful, cutting-edge wavetable synthesis alongside Arturia's award-winning virtual analog technology.
After spending 20 years analyzing and emulating the best synthesizers ever made, they have now used their expertise to create an original, uniquely "Arturia" software synthesizer.
Pigments offers exceptional sound thanks to its hugely powerful architecture and lightning-fast workflow that makes complex modulations easy, fast, and fun.
Arturia promises that while Pigments can sound like other synths, no other synth can sound like Pigments. It is truly a 21st century instrument that will become the go-to choice for all producers, sound designers, and synth-fans alike thanks to its extraordinary features and tempting price.
Pigments has some colorful tricks up its sleeve. In fact, it can do things other synthesizers simply cannot do. These include:
Scale quantized pitch modulations to build complex melodic sequences.
Continuous unison controls that can be modulated, with classic and chord modes.
Extensive waveshaping options for the wavetable oscillator, with great aliasing control.
The usual modulation sources and some more unconventional ones like the Turing and Binary random generators.
Powerful gate/retrig handling for modulators. Perfect to inspire unusual rhythmic sequences or self-generating patches.
Polyrhythmic sequencer with a strong emphasis on randomness, with scale control to remain musical.
At a glance, here are its key features:
Two engines in parallel: the best of both worlds
Virtual Analog triple oscillator engine.
Complex Wavetable engine with morphing and import.
Twin filters: dozens to choose from
Classic filters from V Collection instruments.
Modern filters like surgeon and comb.
Continuous series/parallel routing.
Powerful effects section: an all-in-one solution
13 stunning effects, including wavefolder, overdrive, parametric EQ, and delay.
Insert or Send routing options with drag and drop for easy switching.
All the essential parameters can be modulated.
Advanced modulation system: modulate anything with anything
Graphical editing, source-based or destination-based.
Envelopes, LFOs, Function generators, Random sources.
4 assignable Macros to control multiple parameters at once.
Visual interface: understand your sound
Graphical representation of the most important modules.
Living, moving waveform to see your sound come alive.
Polyrhythmic Sequencer and Arpeggiator: get creative
Create complex, custom and evolving sequences or arps.
Extensive factory preset library: learn from the masters
Hundreds of presets from awesome artists and experienced sound designers, including Jeremy Savage, Starcadian, Cubic Spline, Mord Fustang, and Jörg Hüttner.
Highlighted "notes" to show which parameters are recommended to tweak.
V 1.2.1
New Features
Browser and Store GUI improvement
Bugfixes:
Filter FM Source is now properly loaded when switching to the multimode filter
Highlighted parameter remains now after swapping filters
Various NKS improvements
StereoPan FX Rate and phaser rate can now be be sync'ed to the DAW clock
Microtuning mapping now references A note, instead of C
LFO visualizer now shows the right position when modulating the phase
Wavetable visualizer now displays properly with all graphic cards
R2R Notes

If you have problem with NKS, add C:\Program Data\Arturia\ to your plugins
dir in Komplete Kontrol.
home page
Only registered users can see Download Links. Please
or login.