Cinetools Climax [WAV]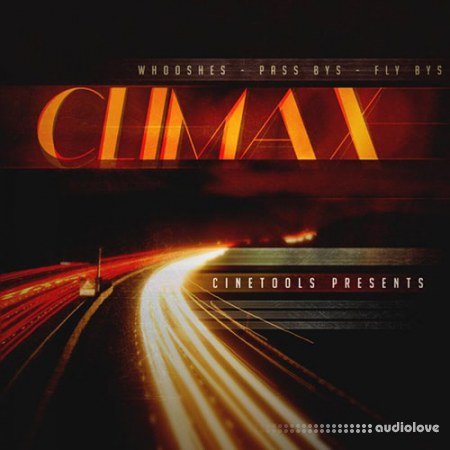 P2P | 10 July 2017 | 1.1 GB
Climax offers you high quality sources to design the unique sounding whoosh and pass by sound effects. Whooshes are the main part of a sound designer's ammo, you can never have enough of them and never find a good one when you need it, this library was designed with this thought.
Cinetools present 'Climax' featuring over 900 cutting-edge Cinematic sounds full of whoosh, swoosh, swish, pass-bys, fly-bys and movement sounds to spice up your trailers, cut scenes, games and movies and give an instant rush of movement and excitement for any projects. From Fantasy to Adventure, Action to Sci-Fi, Horror to Thriller, War to Mystery, whatever you are doing, this product has all you need to give everything the right intense sense of motion.
The variety of sounds featured in 'Climax' includes everything you need to give your projects such as epic Cinematic whooshes to face-melting fly-bys, science fiction flavored pass-bys to flying reverses. All these sounds are made exclusively to provide Cinematic lovers a truly diverse sonic palette for creating high definition Cinematic project also be well suited in many other situations where film standard sound is required. You can use these sounds as they are or mix and match them with other elements from this collection to create your own ideas.
This supernatural library comes with 313 production-ready designed SFX and 600 raw sources & field recordings which combines a wide range of variations and gives you a high level of customisation to craft unique SFX sounds yourself, made by various objects from fishing poles to whips, cords to vacuum cleaner, garden hoses to metal rods, electric cords to badminton rackets, big fireballs to blazing torches, plastic sheets to bamboo stick and even more.
All of the sounds were recorded at 96kHz and were edited for instant use in your projects or creative processing. Recorded with Rode NTG-3, Rode NT4, Rode NTG-8, Zoom F8, Zoom H6, Sound Devices 722, you can easily make your own original whoosh sounds using these sources or dip into the diversity of over 313 ready-to-use sounds with the designed version which offers you an unique and powerful collection of sounds carefully created by only using the raw source material of the pack, so you will never run out of endless possibilities.
'Raw Sources' are perfectly labeled to make it easy for you to use them and 'Designed Folder' has been categorised and sorted into genres such as Action & Sci-Fi, Fantasy & Adventure, Horror & Thriller, War & Mystery for easy searching. All designed sounds are hyper-detailed, layered and manipulated they can easily be added to your projects. Each sound was originally recorded at 24-Bit/96kHz to ensure the highest quality for today's Cinematic production needs.
All of the samples have been pre-cleared and are 100% original & Royalty-Free for your use without any additional licensing fees. 'Climax' will find its place in your library as an indispensable reference point for your next movie, trailer, game, documentary, advertising or any kind of cinematic and multimedia project this is your go-to library.
Cinetools Climax Details:
2.06 GB
913 Files
24-Bit/96kHz
600 Raw Sources & Field Recordings
313 Designed SFX
85 Action & Sci-Fi
62 Fantasy & Adventure
89 Horror & Thriller
77 War & Mystery
home page
Only registered users can see Download Links. Please
or login.