Garritan ARIA Player v1.959 REPACK / v1.872 [WiN, MacOSX]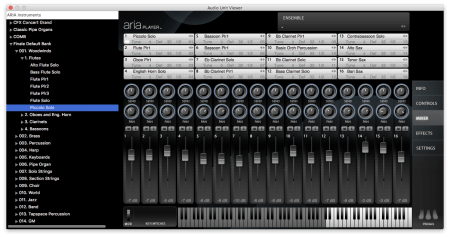 WiN: Team R2R | 11 October 2022 | 31.74 MB
MAC: Team R2R | 23 August 2016 | 43.67 MB
ARIA Player Advanced Instrument Engine. The Garritan libraries are proudly powered by the ARIA Player. No need to purchase a separate sampler.
It is based on the SFZ 1.0 / SFZ 2.0 open file formats for instrument programming and the Scala open file format to define scales and temperaments.
The first software instrument in the ARIA engine was the Garritan Authorized Steinway Virtual Model D Piano Library, endorsed by and in cooperation with Steinway & Sons. Today, the ARIA Engine can be found in various software from Garritan, Plogue, AKAI, Sony, Microsoft and MakeMusic.
This repack contains non modified EXE/VST/VST3/AAX. AAX works in legit
ProTools.

The AAX binary included in legit v1.959 installer is not working. Garritan
informed their customers to use v1.872 if they need AAX. This REPACK contains
AAX v1.872.

You may wonder why it's not working. It's because Plogue put Sforzando AAX binary instead of ARIA Player.

Fortunately, because AAX binary is just a wrapper for ARIA Engine DLL, using v1.872 AAX binary does not cause big issue.

home page
Only registered users can see Download Links. Please
or login.