ProjectSam Orchestral Essentials 1 v2.0 [KONTAKT]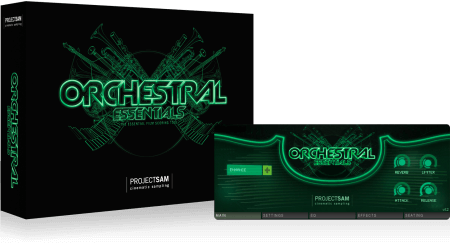 P2P | 18 March 2023 | 8.03 GB
ProjectSAM has carefully selected the essentials from each of their products, including the highly praised Symphobia series, True Strike series and Orchestral Brass Classic, and bundled them into one effective, incredibly versatile package.
Covering full orchestra, string, brass and woodwind ensembles, classical and world percussion, Orchestral Essentials gives you the right ammo to start scoring for film, games or pop with the acclaimed cinematic SAM sound. For each of the orchestral sections, an essential list of articulations is available, as well as one expressive legato instrument and an inspiring set of clusters, textures and effects. Apart from these orchestral elements, you will also find a concert harp, church organ, ProjectSAM's renowned Dystopia sound design, and, exclusive to Orchestral Essentials, an enchanting grand piano and harpsichord.
All samples have been reprogrammed for the newly designed and intuitive Orchestral Essentials interface. All Multis are completely new and, because of the inclusion of piano, harpsichord and harp, are more inspiring than ever before. This makes Orchestral Essentials a fantastic library for first-time SAM users and existing SAM owners alike.
Orchestral Essentials follows ProjectSAM's ensemble recording philosophy. Strings, brass and woodwinds were sampled as sections, as nothing beats the authentic blend of orchestral instruments in a concert hall. ProjectSAM captures this magic in various orchestrations; for example, imagine the noble sound of horns and trombones performing together naturally.
Orchestral Essentials has now been updated to version 1.2, adding new samples, Multis and features, as well as Native Kontrol Support. Scroll down for more details!
Library Content:
LIBRARY SECTIONS
Full Orchestra (sections performing together, 7 patches)
Focuses on orchestral ensembles and sections
String Ensemble (7 patches)
Brass Ensemble (8 patches)
Woodwind Ensemble (7 patches)
Percussion (10 patches)
Keyboards & Harp (4 patches)
Sound Design (10 patches)
Choir (1 patch)
Bonus Instruments (7 patches)
48 inspiring Multis covering many cinematic genres!
KEY LIBRARY FEATURES
Epic full orchestra articulations
Symphonic string, brass and wind ensemble articulations
Legato ensembles with real note transitions
Classical, melodic & world percussion including timpani & Japanese drums
Cinematic effects, clusters and percussive hits
Previously unreleased Piano Mystique and Harpsichord
Ground-shaking Dystopia sound design
Inspiring and thematic Multis
Native Kontrol Standard support
COMPARING WITH ORCHESTRAL ESSENTIALS 2
Orchestral Essentials 1 and Orchestral Essentials 2 are two unique libraries. One does not replace the other, they complement each other. If you own Orchestral Essentials 2, then Orchestral Essentials 1 will offer you 100% new sounds. It will expand your template by adding additional articulations to existing instruments as well as new instruments and ensembles altogether.
COMPARING WITH SYMPHOBIA SERIES
The sounds in Orchestral Essentials 1 were selected from other libraries in our catalog, including the Symphobia series. Each program was streamlined and tweaked to fit into the Orchestral Essentials series concept. All instruments in Orchestral Essentials 1 are available in 1 microphone set (close or stage, depending on the instrument). In the original libraries, these instruments are available in multiple microphone sets, a more in-depth interface and, in most cases, more articulations.
Library specs:
16.7 GB audio pool (actual recordings)
8.4 GB on disk (compressed Kontakt format on disk)
44.1 kHz 24 bit audio format
Library version download: 1.2
Library version boxed: 1.1
System requirements:
Minimum Kontakt version: 5.5.2
Mac: OS X 10.9 or higher
Windows: 7 or higher
Minimum CPU: Intel Core 2 Duo
Supported plug-in interfaces: Stand-alone, VST, AU, AAX
Works with Kontakt (full version) and Kontakt Player (free version)
home page
Only registered users can see Download Links. Please
or login.