Guda Audio SynthR v1.3 [WiN, MacOSX]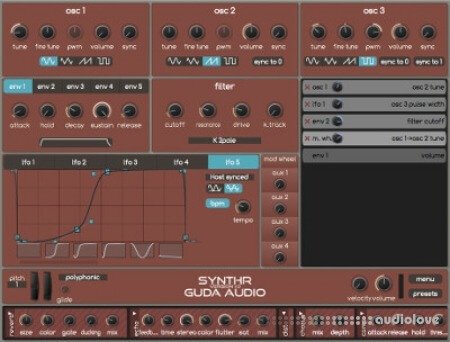 Team R2R | 04 October 2019 | WiN: 10.2 MB | MAC: 9 MB
SynthR is a flexible synthesizer with drag and drop modulations, clean anti aliased oscillators and sweet saturated multi mode filter. It packs great effects and flexible LFO shapes. Use unison to create wide and fat sounds with up to 5 voices simultaneous at each note.
Easy to change color themes and looks.
No separate download for full version, available in 64/32 bit for Mac OSX 10.7+ in VST/AU and Windows VST.
SynthR has two oscillator modes. "classic" with analog type shapes and "spline" with easy to use flexible waveform editor and shape morphing effects.
Team R2R Note:
(v1.3)
This is what GuDa does :

1. Check the hosts patch. If it connects to 127.0.0.1, it goes to demo.
2. Check the connection to google.com.
3. Check license online (virtual.gudaaudio.com, gudaaudio.com).
If registered serial is not legit, it goes to demo.
4. When it fails connecting online check and google.com connection is OK,
it reverts to demo.

This means, if Guda server is dead, all legit user get deactivated. Only way
to avoid the deactivation is shutting down the connect to google.com, which
should be inconvinient for many users. We think this is not a right way.
Unless the requirements of the connection to their server is defined in the
license agreement, legit user always have rights to do that.

Our new release is not affected by google.com connection. Should be useful
even for the legit users :D
home page
Only registered users can see Download Links. Please
or login.