Additional Libraries / Vocals
Best Service Mystica v1.1 Rev 1 Update [KONTAKT]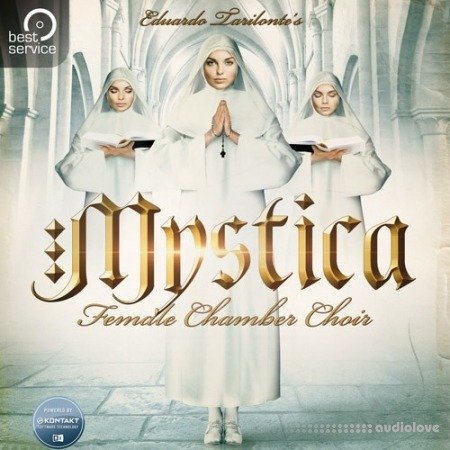 UPDATE ONLY: P2P | 04 December 2019 | 35 MB
FULL LiBRARY: P2P | 20 July 2019 | 3.07 GB
Mystica – where world class vocalists meet the topmost innovative library designer and superior studio gear.
With Mystica, Eduardo Tarilonte continues his incomparable series of vocal-libraries. This classical chamber choir consists of eight extraordinary female vocalists, delivering a unique, enchanting sound without comparison.
Mystica was designed as a female-choir-library for unconfined solo use. At the same time, the library forms a perfectly matched mixed choir when being combined with Cantus. Therefore, Mystica was recorded under identical conditions in spanish KBYO Recording Studios, located in Granada, using eight selected Neumann microphones and Avalon preamps.
Cantus coverTo ensure perfect team play of both libraries, Mystica offers the same words and Phrase-Arranger as Cantus. In addition, there is a new feature for quick-exchanging phrases and wordbuilder-settings between the libraries - in both directions. This way, the combination of Mystica and Cantus forms an impressive tool to create overwhelming choir passages.
Mystica is an unparalleled choir with an extraordinary sound quality. Mystica offers an almost magical sound which is extraordinarily versatile and equally suited for esoteric and mystic melodies as well as for big cinematic passages. One of the benefits of Mystica is its wonderful, expressive "True Legato".
Mystica unifies realism and inspiration
This unrivaled choir-library allows creating incredibly realistic choir-phrases with ease. Mystica's powerful and innovative wordbuilder combines 24 words in the form of 120 elements, consisting of full words, corresponding syllables and five True-Legato vowels (A, E, I, O, U) plus an additional "Mmmh"-articulation.
As every Tarilonte vocal-library, Mystica offers the brilliant and innovative option of combining each word with any of the five True-Legato vowels, too. This way, realistically sounding vocal phrases can be created without using ready-made phrases.
Nevertheless, Mystica can, of course, be used as a typical choir-library without its Phrase-Arranger. There is an ample choice of 100 Gregorian vocal phrases, allowing to create sacral atmospheres with ease. In addition, the library offers twelve soundscapes being formed from vocal recordings as well as vocal effects to create unusual sounds.
Mystica Features:
- unique "Numen Ensemble" female choir with eight vocalists
- 5 GB WAV samples, 24 bit/44.1 kHz
- 5 "True Legato" vowels (A, E, I, O, U), separate "Mmmh"-articulation
- powerful Phrase-Arranger with 24 words and three different articulations (staccato, fast, slow)
- words can be separated in 120 short words/syllables
- combine words with True-Legato vowels - automatic vowel selection
- 100 Gregorian vocal phrases
- 12 soundscapes, moulded from vocal recordings
- additional vocal effects
- new import/export functions to exchange Phrase-Arranger patches between Mystica and Cantus
- dry recordings, perfect to be spiced up with individual reverberation
With this update 1.1 we did some product maintenance and made these libraries fit for Native Instrument's Komplete Kontrol standard. You can now take advantage of the Komplete Kontrol Keyboards and Software with these vocal libraries.
Update log: The update 1.1.1 restores the Keyswitch compatibility to the original version, corrects some features of the NKS integration and offers a "Manual Vowel" function.
In addition, several bugs have been fixed to improve performance.
Kontakt version 5.5.2 or higher required
home page
Only registered users can see Download Links. Please
or login.