Futurephonic MixTransformers Mixing Masterclass [TUTORiAL]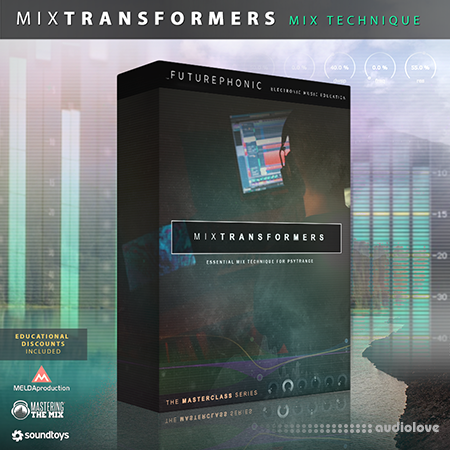 FANTASTiC | 04 December 2019 | 5.54 GB
Countless hours spent in the studio on your latest track. This is going to be the one. The one that launches your career and launches dance floors into the stratosphere.
Then you play it next to one of your favorite tracks and well… it lacks. That old doubt comes rushing in.
Why does my mix sound cluttered and muddy?
Why doesn't it sound open, wide and spacious?
Will it work in mono? Do big sound systems even operate in mono?
How do I separate my elements? When I cut the low end out, everything sounds too thin.
It's gone from sounding tight and fat to flabby and weak. How do I fix these issues? I've used everything I know and it feels like I'm still SO far away from achieving the results I know I'm capable of. It all starts to feel like a hopeless waste of time.
If this all sounds familiar, welcome to MixTransformers.
This is your class.
After countless hours spent helping our students and producing cutting-edge Masterclasses, one thing became clear to us: never before have we taken a students track, and comprehensively mixed it through to a dancefloor-ready monster. This is the class we just HAD to make.
Join us as we take you through:
How to strengthen a kick and bass to industry standard using EQ, saturation, dynamic and stereo processing. Achieve the weight and presence to give your track the solid foundation that it needs.
The techniques necessary to balance different frequencies in your mix and reach a clear and open sound.
The key to a wide yet focused track. Stereo width, Mid-Side, it's all covered here.
How to identify key problems in your mix, and how to solve them quickly and efficiently with simple but effective tools.
A comprehensive understanding of how to use dynamic processing to bring your elements to the front, or sit them right where they need to be. Achieve punch, life and control.
How to use reference tracks in a tangible, useful way with the help of Mastering the Mix's Reference. Learn how to compare your track and make the changes it needs to sound professional.
The benefits of using pro-grade analysis tools, to help you make better mix decisions. Learn to love your analyzer!
Your teacher guiding this experience is Nikolai Cedraeus. Nik brings his extensive experience and knowledge gained from over 15 years of producing, mixing and engineering in the industry. We'd also like to thank Waio and Symbolic for providing their release Cyber Space as our class reference track.
home page
Only registered users can see Download Links. Please
or login.