ProducerTech Classic House Production and Sound Design [TUTORiAL]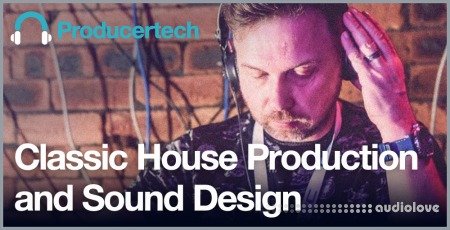 Team DECiBEL | 16 September 2019 | 2.91 GB
Maison Records owner Ian Bland returns to Producertech to deliver another course on constructing a classic house track from scratch, this time in Logic Pro. Using almost exclusively Logic's built-in instruments and effects, Ian shows how to design bass grooves, leads, pads, vocals and more, then arrange and mix them into a professional-sounding track.
The completed track, 'Living for the Moment', which has now been released on Rebel Eye under his alias Dancing Divaz, is supplied with the course in mastered and pre-mastered format. Ian also goes under aliases Hollywood Hills, Quake, Dejure, Blandy and many others, releasing on a host of popular labels, as well as his own label Maison Records. His impressive discography includes remixes for Queen and Prince, and dates right back to his formation of legendary rave outfit Dream Frequency in 1990!
On the course, Ian shows how to design and sequence every one of the musical parts, including grooving bass, stabbed synth and organ chords, sustained strings and vocals, using Logic's EXS24, ES2, Alchemy, B3 and Retro Synth. This allows students to see how each part of a house track can be created from the ground up, without relying heavily on samples. Once all parts have been produced, Ian then builds his arrangement, spending a decent amount of time on each section, so you'll learn how to maintain continuity and interest throughout the track. Finally, levels are balanced and effects applied, to ensure the end result is comparable to other professional releases in the genre.
Signing up to the course gets you instant 24/7 access to over 5-hours of tutorials, for as long as you need, plus all the Logic projects from the course and a 100MB bonus pack of house samples from Loopmasters. Before signing up, check out the free sample module and listen to the completed track on the Producertech SoundCloud page.
Module 0 - Intro
Ian introduces the course and plays through his completed arrangement.
Module 1 - Designing the Kick
The sculpting and layering of a house kick from scratch using Sonic Academy's Kick 2 Plugin.
Module 2 - Main Groove 1
Ian uses Logic's EXS24 Sampler and Loopmaster's free Loopcloud plugin to put together the main groove elements.
Module 3 - Main Groove 2
A final percussion rhythm is added before all tracks are mixed, to ensure a tight and pounding groove.
Module 4 - Making the Bassline
Logic's Retro Synth is employed to sequence a bassline, which is then processed with various insert and send effects.
Module 5 - Chords Riff Creation
The main melodic motif of the track is conceived with Logic's Alchemy synth and a number of factory effects plugs.
Module 6 - Adding an Organ
A secondary chords progression is laid down using Logic's classic B3 Organ, providing a detailed explanation of the instrument's bars and controls.
Module 7 - Creating Strings
Ian uses Logic's ES2 Synth & Classic Korg M1 plugins to make accompanying strings, explaining the layout of both synths along the way.
Module 8 - Vocals
Slicing, arranging and making melodies using Loopcloud, slicing edit functions and convert to sampler in Logic.
Module 9 - Final Music Tweaks 1
Additional tracks, edits and mix adjustments.
Module 10 - Final Music Tweaks 2
More sounds are added, regions manipulated and effects reworked.
Module 11 - Arrangement 1
The drums intro is constructed.
Module 12 - Arrangement 2
Continuing the intro, the verse 1 vocals are added.
Module 13 - Arrangement 3
The arrangement is completed up to the second verse.
Module 14 - Arrangement 4
Ian finishes off the arrangement, leaving a good, mixable outro.
Module 15 - Mixdown
Logic's EQ and match EQ function are utilised, as well as comparison to a reference track using Sample magic A/B.
Module 16 - Final Master
The completed master track is made using Logic's EQ, Multipressor, Match EQ, Limiter and Sample Magic's A/B plugin.
5 Hours of Streamed Tutorials from Label Boss
Pro Mixing Tips and Tricks
Included Logic Projects
Premaster and Final Master Track Audio
100MB Bonus Samples
home page
Only registered users can see Download Links. Please
or login.