Motion Design School Sound Design for Animation [TUTORiAL]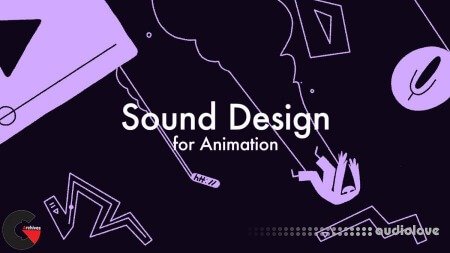 FANTASTiC | 26 September 2019 | 1.93 GB
Sound Design for Animation (2019) : Discover the principles of creating sound design for animation videos that will contribute to evoking emotions, supporting a plotline and a brand identity.
Get started with Cubase 9.5. In the course, you will master one of the most convenient tools for working with sound design, as well as step by step study the process of creating all the elements of sound effects. We'll concentrate on the niche side of sound production, which is work with animation videos.
No matter if it is an explainer video telling the story of a company and its products or a visual essay (an author's statement on a certain topic), the approach studied at the course works equally well for creating sound design in any sphere of visual media.
What will I learn in the Sound Design course?
1. Introduction
This lesson is important for giving you an idea of the volume of the work. It will also help you to get ready with everything you need for the course. We'll have a look at:
The necessary hard- and software (DAW, Soundly);
Sound libraries;
The principles of work of a sound designer;
The review of the course materials.
2. Cubase Work Station and Soundly
These two are very important programs that we'll take a close look at and review their major capabilities and settings. You'll get to know about the interface, the settings and the plug-ins necessary for the work on sound design.
Cubase is our main work station and Soundly is a sound effects platform which we use daily. We need it to find the necessary sounds.
3. Layering
We will cover how unique sound effects are created by combining several sound textures.
4. Sound Design for an Interface
We will get to know how to create sound effects for an interface. Also, you will learn the principles of work of a sound synthesizer.
5. Foley Effects
Here we will cover the topic of creating sounds accompanying the characters' movements and sounds of other objects in the frame. For example, the sound of footsteps, of a squeaky door, of a car passing by, etc.
6. Characters' Sound Effects
Here we will find out how to make characters look truly alive. We will learn how to create characteristic sounds and voices for them.
7. Creating Ambience
One of the main topics in sound design is creating a sound background that influences the identification and perception of the action setting.
8. Special Sound Effects
We will cover the topic of creating sound effects, which are usually impossible to be recorded on the microphone.
9. Voiceover Editing
In this lesson, we will share our experience of editing and processing voiceover tracks.
10. Final Mix
Watch the Introduction Video :
home page
Only registered users can see Download Links. Please
or login.