BeatSkillz RetroKZ v1.0 [WiN]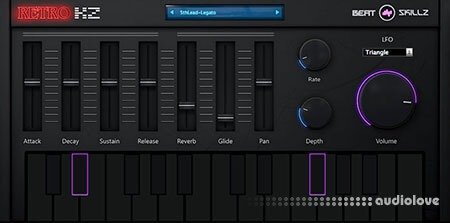 SYNTHiC4TE | 03 October 2019 | x86: 4.22 GB | x64: 4.75 GB
Retro KZ is a Virtual Instrument rompler inspired from 80s Soundtrack for Films and TV series, as well as Pop Music. Features sounds that you have heard countless times from that era and always wanted but couldn't find! Here they are, sampled from original 80s Synths and samplers using high outboard gear for maximum fidelity.
Have you seen TV, Netflix, and closely listened to the scores of many contemporary movies today?If Yes, then you can't miss the fact the 80s/ 90s Sound is back BIG TIME!
We wanted to pay homage to the sounds of the great soundtracks from the 80s from composers and tv series /movies such as John Carpenter, Harold Faltermeyer, Jan Hammer, Michael Jackson, Prince, Night Rider, The Terminator, Commando etc..
Certain iconic sounds showed up in many such projects, and we decided to embark on a journey of bringing you the very sounds you know, sounds you can identify immediately as soon as you hear them!
We sampled and tweaked these patched from original synths such as Fairlight, Synclavier, Yamaha DX7, Roland D-50, EMULATOR II, KORG M1, OBERHEIM OBX, PROPHET 5, SYNTHEX and many more…
These sounds were recorded using analog outboard gear such as NEVE 1073, Thermionic Culture Rooster, and Electrodyne pres, Distressor, API 2500 and Drawmer 1978. Also, External effects were used from Eventide, Lexicon.
Hardware Eq, compression and reverbs were applied to the dry samples to re-create the original 80s vibe. These sounds will be instantly recognizable and will inspire you to work fast and sound great.
home page
Only registered users can see Download Links. Please
or login.