Cinesamples Taylor Davis [KONTAKT]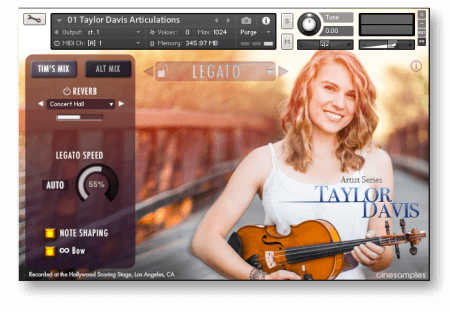 P2P | 04 October 2019 | 8 GB
Artist Series - Taylor Davis is a solo violin library and a part of Cinesamples' Artist Series. Her Violin Legato library incorporates the same unique seamless legato recording and programming techniques as the Tina Guo Acoustic Cello Legato, Tina Guo vol 2, and CineStrings SOLO libraries. The legato allows for agile melodic passages and there are additional articulations including spiccato, marcato, tenuto, pizzicato, and open strings.
ABOUT TAYLOR DAVIS
Taylor Davis is an American violinist, arranger, and composer. Davis is best known for her violin-covers of music from video games featured on her YouTube channel, which has over 2.6 million subscribers. She also features performances of her own arrangements of music from films and musicals. Taylor has been performing for about 20 years, and studied privately for about 13 of those years. She plays a hand made Italian violin from the 1780s.
ABOUT THE INSTRUMENTLegato
The Legato articulation features Cinesamples' Seamless Legato performance found in all our solo string instruments.
Want upward portamento? Play a transition with a velocity over 110! You'll get an upward portamento legato transition for minor 3rd intervals through the octave. Additional programming allows for legato beyond the octave.
Note Shaping
Selecting this adds a slower attack to notes with lower velocities for a more dynamic preformance.
Bow
Unselected, this includes Taylor's natural bow changes on sustained notes. Selected, it allows you to extend the bow length as needed. Simply re-attack a note (quickly) when you need a bow change on the same note.
Legato Speed
With AUTO on, legato speed is determined automatically by how fast you play. You may deselect AUTO and set the Legato Speed manually. Higher settings allow for faster playing, and lower settings allow for slower playing and will reveal more of the recorded legato transition. This setting is saved with the patch.
Mod Wheel
The Mod Wheel controls general dynamics.
For more articulations, use the keyswitches from C1-F#1, or select them from the dropdown menu:
- Legato
- Sustains
- Spiccato
- Marcato - an elongated espressivo-style short
- Pizz
- Tenuto
- Open Strings - sustains on the 4 open strings of the violin
Reverb
There are a variety of reverbs from which to choose including Taylor's custom reverb heard on all her YouTube videos.
Articulation Lock
There is an Articulation Lock feature next to the articulation pull-down menu. When locked, keyswitches are removed and all other articulations are purged from RAM.
PATCH LIST
01 Taylor Davis Articulations
02 Taylor Davis Legato
03 Taylor Davis Sustains
04 Taylor Davis Spiccato
05 Taylor Davis Marcato
06 Taylor Davis Pizz
07 Taylor Davis Tenuto
08 Taylor Davis Open Strings
Works with the FREE version of Kontakt 5.6.8 and above.
home page
Only registered users can see Download Links. Please
or login.