Cakewalk PC4K Channel Compressor v1.0.1 [WiN]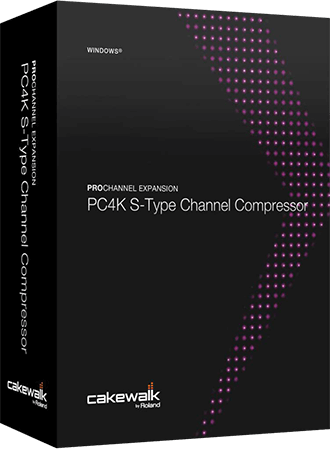 Team R2R | 06 October 2019 | 12.3 MB
A must-have addition to your effects arsenal, the new PC4K S-Type Channel Compressor adds vintage-era, console-style, channel compression to every ProChannel strip in SONAR.
Complementary Compression
Cakewalk provides a thoughtful collection of ProChannel effect modules carefully designed to complement each other and to avoid overlap in function and application. And the PC4K S-Type Channel Compressor is no exception. Highly transparent with gentle, soft-knee characteristics, this module is particularly well suited to compressing and leveling a variety of material such as bass, keys, and rhythm guitars. Flexible drag and drop routing and manual output gain control lend a modern twist to an old classic.
The PC76 U-Type Channel Compressor, already included with SONAR X1 Producer, and the new PC4K S-Type Channel Compressor have different characteristics and handle audio information in distinctly different ways, making them a nice complement to each other. The PC76 U-Type employs classic FET design with very fast attack and analog-style warmth. It's modeled after a vintage, rack-mount, compressor that uses transistors to emulate a valve sound and is generally used on single channel source material. In contrast, the PC4K S-Type Channel Compressor is modeled after a built-in, VCA based, channel strip compressor and is able to be pushed hard and yet remain transparent on a wide variety of sources.
Classic Console Emulation
When coupled with the included PC4K S-Type Bus Compressor, the included ProChannel EQ (set to Vintage), and the optional PC4K S-Type Expander/Gate, the new PC4K S-Type Channel Compressor provides full emulation of classic, large-format, mixing consoles used by professional engineers to make hit records for over a quarter century.
Professional Mixing
Each ProChannel module is carefully designed and expertly crafted to give the sound and experience of using the legendary hardware it's based on. The same techniques used by professional engineers can be translated to these faithful recreations, but they also provide the added flexibility and ergonomics afforded by software. This means you can have an unlimited number of instances in a mix (limited only by available CPU power) and they can be re-routed and placed anywhere in the ProChannel's signal path with a simple drag and drop. With x64 native operation and 64-bit double precision resolution, you can be assured of both smooth performance and unsurpassed fidelity.
home page
Only registered users can see Download Links. Please
or login.