Sample Logic Modern Animated Percussion [KONTAKT]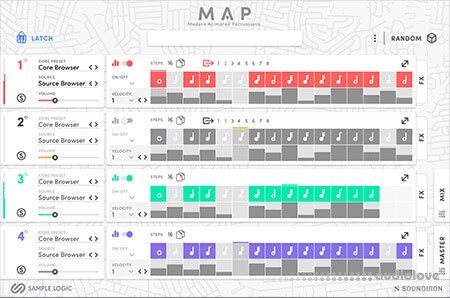 Team DECiBEL | 06 October 2019 | 4.42 GB
THE NEXT STEP IN BEAT MAKING IS HERE
Sample Logic & Soundiron have teamed up and are proud to introduce the world's most modern drum machine: Modern Animated Percussion. MAP redefines everything you know about percussion and rhythms. Built for the full Kontakt sample player, MAP contains over 6,000 sounds and instrument presets. The intuitive design and programming of every preset delivers infinite options for sound sculpting. Packed with creative presets, the effortless user interface makes it easy to conjure rhythmic timbres and tones.
BLURRING THE LINE BETWEEN PERCUSSION & RHYTHM
MAP gives you the production quality of a polished audio loop alongside the dynamic flexibility of a drum machine. Change any aspect of the sound with infinite sonic results. How is this possible? The secret is in the infrastructure; even though each preset might sound like a perfectly produced rhythmic audio loop, it is much more, as there are no loops in this product. In the driver's seat is a supercharged MIDI based drum machine, triggering samples with the elasticity of an arpeggiator.
FROM SAMPLE TO RHYTHM
Equipped with over 4,000 unique percussive audio samples and nearly 2,000 presets, MAP has been meticulously programmed around Sample Logic's proprietary 4-core engine. Each instrument preset contains 4 sound cores, each powered by an independent drum machine running in tandem to trigger 4 different sounds at once. This generates perfectly produced and polished loop-like results, but with far more flexibility than simple sampled audio loops. The 4-core engine allows you to change any aspect of any sound at any time, maximizing creativity. Each core has two main components: a Step Animator (MIDI step pattern engine) and a dynamic FX engine. These engines are intelligently designed for dynamic control and customization, with a visual language that's easy to understand and tweak. Fire up all 4 cores by playing middle C on your MIDI controller - the Step Animator does the rest. For single core playback, use keys D,E,F, or G which will trigger on separate clocks. Use this to deconstruct each multi-core preset and make custom playback layers in creative ways.
SOURCE SOUNDS
Sample Logic and Soundiron have teamed up to deliver a vast collection of percussive hit samples. From world percussion to EDM kits, the creative team truly set out to cover the entire map of percussive sounds. We scoured the globe to sample everything from massive impacts & cinematic transitions to traditionally sampled toms & hand percussion... and everything in between. MAP truly delivers the most diverse collection of percussive sources assembled into one virtual instrument.
STEPS TO CRAFTING YOUR SOUND
MAP is designed with infinite creativity in mind. The beauty behind this beast is the multitude of ways to use and perform with it. The instrument is laid out into several main sections: The dynamic Preset Browser, the Step Animator engine, the Dynamic FX engine, the Mixer, Master Effects... and of course our famous Randomize section. Whether a deadline mandates you to live only in the preset browser, or have time to build your own 4-core masterpiece, we've provided the map for you to go in any direction you wish.
MAP AT A GLANCE
One of a kind collaboration between SAMPLE LOGIC & SOUNDIRON
6,000+ hand crafted sounds & instrument presets
13,800+ samples weighing 5+GB (samples are delivered at 44.1kHz / 24-bit)
Dynamic "all-in-one" tag-based preset browsing system all within the UI
Proprietary 4-core Step Animator & Hot-swappable dynamic FX engine
Entirely "randomizable" performance engine for instant and infinite inspiration
System Req's
Full paid version of Kontakt, v5.8.1 or higher (Will not work in the free Kontakt Player!)
Mac OS X 10.11, i5, 4 GB RAM (6 GB recommended)
Windows 7, 8, 10, Intel Core i5 or equivalent CPU, 4 GB RAM (6 GB recommended)
5.13 GB free disk space for MAP sample content
home page
Only registered users can see Download Links. Please
or login.