Puremagnetik Verv v1.0.4 / v1.0.1 [WiN, MacOSX]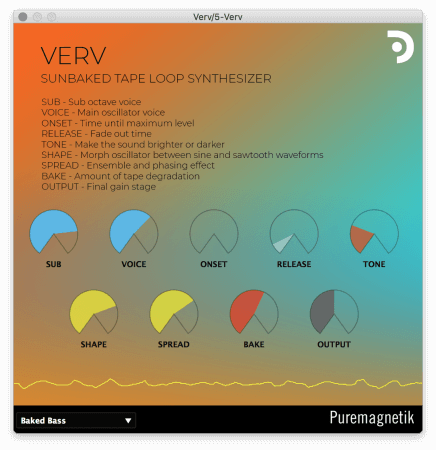 P2P | 07 October 2019 | 52 MB
Verv is a synthesizer inspired by string machines, tape loops, Mellotrons and other time-worn analog recordings. Modeled after the 1970s Freeman String Symphonizer and ARP Solina, Verv has a dual-oscillator and carefully constructed ensemble modulation reminiscent of the classics.
Bake
As you might know, we at Puremagnetik are serious mellotron and tape loop enthusiasts. We thought Verv would sound much, much cooler if it could be recorded to a tape loop and set to bake in the sun (perhaps on a car dashboard) all summer long! While we can't bring tape loops and a hot desert sun to your studio, we encapsulated the experience into an effect. Just turn up the "Bake" control and you have an instantly degraded tape with wow and flutter, clicks and pops. If you turn "Bake" down to zero, you can bypass the effect altogether.
Spread
Classic stringers of the '60s and '70s employed a primitive, yet effective form of ensemble - a perceived "thickening" of the oscillators by doubling them with a second, slightly detuned voice. The "Spread" control does just this in the style of the old-timers. And just like the originals, which painstakingly utilized multiple, physical oscillators, Verv has one unique modulator per voice. The minute ensemble fluctuations per note are never the same, allowing Verv to contend with the stringer legacy!
Beyond Strings
Despite being designed as a string synthesizer, Verv is capable of much more. First of all, it has a morphable saw to triangle oscillator. Similar to classic Buchla synthesizers, you can add or subtract harmonics with the "Shape" control. There is also a dedicated Sub oscillator - fixed as a pulse wave - that can be used as a standalone bass synth, similar to an MC-202. Use "Spread", "Shape" and the Contour controls to conjure up everything from an electric keyboard to a sawtooth lead.
Verv Features
- Vintage string synthesizer emulation.
- Tape loop and wow and flutter effect
- Classic ensemble effect
- Integrates into any VST / Audio Units compatible host
- Includes a collection of factory presets
Minimum Requirements
- OSX 10.8 or Windows 10 x64
- Audio Units or VST compatible audio host
home page
Only registered users can see Download Links. Please
or login.