Thenatan Tape Piano v1.0 Incl Expansion [WiN]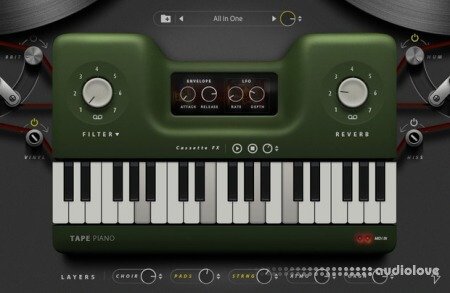 SYNTHiC4TE | 14 October 2019 | 4.02 GB
After two Months of recording, editing, and programming,
Thenatan proudly present "TAPE PIANO"
If you looking to create Old School Hip Hop, Chill Hop, Lofi Hip Hop, Movie Soundtrack, Ambient and Electronica or just need to add some warmth to any track that sounds just too digital, then "Tape Piano" is the perfect choice.
With "Tape Piano" You will find over +58 dirty, Vinyl and sometimes beautiful Piano Presets all lovingly mangled, re-sampled and processed through various analog outboard effects to nail that cool LoFi vibe.
We have hopefully succeeded in bringing you a collection of awesome Piano Sounds perfect for any producer of LoFi Hip Hop, Chill Hop, Ambient even Dnb and Electronica!
TAPE PIANO Features :
+58 dirty, atmospheric and sometimes beautiful Piano Presets.
All Presets processed, EQ'd, compressed and transient shaped perfectly.
5 HD Layers " Strings , Pads , Choir , Organ And Atmosphere "
4 Textures " Hiss , Vinyl , 8-Bit And HUM"
Buit In Cassette Effects , Play And Stop
Built in classic sounding reverb
Built in flexible LFO controls
Built in Hi & Lo pass filter
Stereo Outputs For Each Layers
Ultra low CPU usage [perfect if you own a laptop / tablet / low spec PC/MAC]
Ultra fast patch loading
We were very glad to see that Tape Piano was a huge success since the first day of launch. But that did not stop us, we continued to bring new sounds to give you a complete experience when using Tape Piano.
So we're pleased to introduce the "The Pianist" , an addition of +40 Dark Piano Presets that will bring Tape Piano to a new level of performance."
The Pianist For Tape Piano was created with one thing in mind - To provide you with a collection of top quality Piano Sounds that will inspire and complement your productions. You'll find a top notch collection of expertly sampled and processed sounds including Lofi Pianos, Grand Pianos, Saturated Pianos, Broken Pianos and Many more.
The Pianist can be the perfect companion for any Lofi, Hip-Hop And Chill producer but it's also a valuable resource for anyone producing Pop, Cinematic, and many other genres To instantly changing the vibe and feel in a matter of seconds.
The Pianist expansion pack is a collection of presets that were designed to give you even more tonal colors to choose from.
The Pianist Features :
+40 Dark, atmospheric and Piano Presets.
All Presets processed, EQ'd, compressed and transient shaped perfectly.
home page
Only registered users can see Download Links. Please
or login.