Punkademic Ultimate Ableton Live 10, COMPLETE Parts 4, 5, and 6 [TUTORiAL]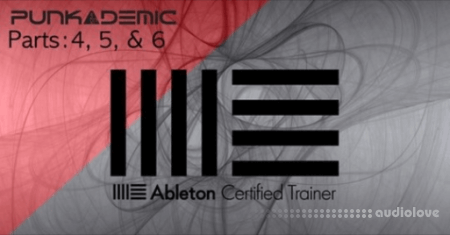 P2P | 21 October 2019 | 4.82 GB
Welcome to ULTIMATE ABLETON LIVE 10 COMPLETE: PARTS 4, 5, AND 6!
In this course, we will use the real-world experiences of the award-winning instructor and university music business professor Dr. Jason Allen. But don't be worried - Dr. Allen is best known around campus for keeping things simple, accessible, and useful.
Dr. Allen is a professional musician, top-rated Udemy instructor, and university professor. In 2017 the Star Tribune featured him as a "Mover and a Shaker," and he is recognized by the Grammy Foundation for his music education classes.
He is also an ABLETON LIVE CERTIFIED TRAINER.
In this class we are going to focus on using Ableton Live 10, and every aspect of the program. We will focus on how to do everything possible in Ableton Live, and you will finish this course as an expert in Ableton Live 10. Whether you have experience already in music production or not, this is the ultimate class to learn how to use the Ableton Live 10 software for any genre of music.
ULTIMATE ABLETON LIVE 10 COMPLETE: PARTS 4, 5, AND 6 is three courses in one: It includes Part 4: Sound Design and Samplers, Part 5: Audio and MIDI Effects, and Part 6: DJ Techniques and Controllers.
Also in the class I have a really special surprise. I've invited my friend James Patrick to show some of his techniques as well.
James is a DJ that has toured the world, and is known internationally for his engaging performances. He is going to be IN this class, and has contributed several exclusive videos for this class.Topics include:
Synthesis Basics
Types of Synthesis
Physical Modeling Synthesis
Elements of Synthesis
Live's Analog Instrument
Live's Collision Instrument
Live's Electric Instrument
Live's Impulse Instrument
Live's Tension Instrument
Live's Operator Instrument
Live's Simpler Instrument
Live's Sampler Instrument
Multisamples and Zones
Sampler Orchestras
Racks!!!!
Instrument Racks
Chain Selector
Macros in Racks
Drum Racks
Choke Settings
The External Instrument
MIDI Effects
Arpeggiator
Chord MIDI Effect
MIDI Effect Racks
Note Length MIDI Effect
Pitch MIDI Effect
Random MIDI Effect
Scale MIDI Effect
Velocity MIDI Effect
Audio Effects
The three types of Audio Effects
ALL Ableton Audio Effects (and how to use them!)
Simple Delay
Ping Pong Delay
Filter Delay
Grain Delay
Chorus
Flanger
Reverb
Beat Repeat
Looper
EQ Three
EQ Eight
Auto Filter
Amp
Cabinet
Corpus
Dynamic Tube
Erosion
Frequency Shifter
Overdrive
Phaser
Redux
Resonator
Saturator
Vocoder
Compressor
Glue Compressor
Limiter
Multiband Dynamics
Gate
Auto Pan
External Audio Effect
Vinyl Distortion
Spectrum
Tuner
Utility
Audio Effect Racks
Using Effect Rack Presets
Building our own Effect Racks
Parallel Processing
Fade To Grey
Performance Racks
Controllers and Controllerism
MIDI Mapping
The Ableton Push Interface
The APC40 Interface
Follow Actions
Legato Mode
Launch Modes
Launching Clips in Performance
Effects Setup for Performance
The Crossfader
Mapping Controllers for Performance
... And much more!!!
I will be making 6 (six!) complete classes in order to bring you the most comprehensive manual on Ableton Live production techniques ever created. Each class has Sets, sessions, and experiments for you to try on your own and follow along with.
And of course, once you sign up any part, you automatically get huge discounts to all the upcoming parts (the next 5!) of this class.
You will not have another opportunity to learn Ableton Live in a more comprehensive way that this. Start here.
The course is a roadmap to MAKING STUNNING TRACKS with Ableton Live 10.
All the tools you need to produce great tracks are included in this course and the entire course is based on real-life experiences - not just academic theory.
Please click the "Take This Course" button so you can start making better tracks today.
What you'll learn
At the end of this course, students will be able to produce music with Ableton Live and be on their way to being a professional musician.
Students will understand the two views in Live.
The fundamentals to recording in Live
All possible ways of editing in Live
The 10 fundamentals to audio recording
The 6 fundamentals to MIDI recording
The essential tools for Warping
Editing and Producing in Arrangement view
Session View editing and Producing
Making Beats
The 7 (and more!) methods to making beats in Ableton Live
Producing with synths in Ableton Live
The 12 Ableton Live Instruments
The new Wavetable Synth
The Ableton Live Samples
The 3 uses of Racks
The 8 MIDI Effects
The 10 Time-based audio effects
The 17 frequency-based audio effects
The 7 Dynamic-based audio effects
Working with Controllers and DJ Tools
Performing with Ableton Live
home page
Only registered users can see Download Links. Please
or login.