Producertech Producers Guide to Superior Drummer 3 [TUTORiAL]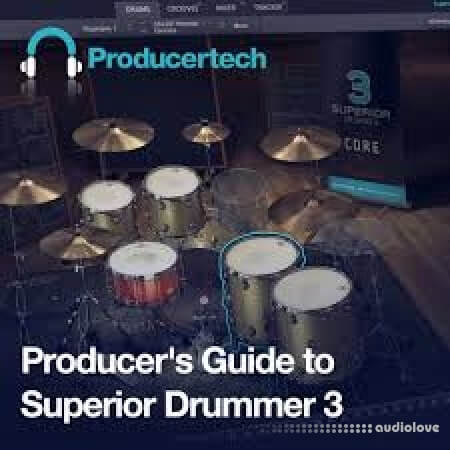 Team DECiBEL | 27 October 2019 | 1.35 GB
Toontrack's Superior Drummer 3 is an unrivalled platform for the creation of acoustic, electronic or hybrid drums, incorporating a huge library of sampled kits, recorded by George Massenburg, with an intuitive mixer that includes 35 built-in effects, comprehensive groove manipulation and much more! On this detailed course by Joshua Casper, you'll be guided through every part of the software, to get you well on your way to programming incredible drum tracks with this legendary virtual studio.
The course starts with a proper look at the foundations of the software, the drums themselves, showing how kits are loaded up, played and customised. Once the desired kit has been created, the drums are then programmed and edited using the groove and song track panels, before balancing and processing everything with the software's powerful mixer.
In addition to covering all of the main sections of Superior Drummer, there are separate tutorials on every one of the 35 audio effects onboard! Furthermore, Joshua provides a useful demonstration of how to import audio of multi-tracked drum sessions and extract high quality MIDI using the tracker panel, allowing enhancing or replacing of audio with the software's high quality drum samples.
Module 1 - Introduction
An introduction to the course and overview of the software.
Module 2a - The Drums Tab
An overview of the Drums Tab.
Module 2b - The Drums Tab continued
Joshua continues to work through areas of the drums tab, showing how to further customise and refine a kit.
Module 3 - The Grooves Tab
Joshua shows how to create and edit beats using the grooves tab.
Module 4 - The Song Track
A detailed look at the song track, where beats are constructed along a timeline.
Module 5 - Macro Controls
Joshua teaches how macro controls work inside SP3.
Module 6 - The Mixer Tab
A thorough guide to the mixer section, where drum kits are balanced, processed with insert and send effects, and much more.
Module 7 - Effects
36 tutorials showing how effects are used in SP3, including individual guides to every one of the 35 available tools.
Module 8 - The Tracking Tab
A useful demonstration of how to import multi-tracked drums into SP3, so that certain sounds can be replaced using the software's pristine drum samples.
home page
Only registered users can see Download Links. Please
or login.