Guitar Magazine December 2019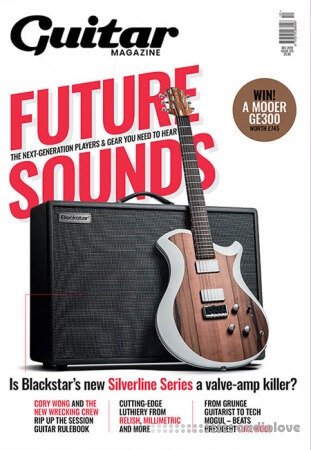 English | 148 pages | True PDF | 68 MB
It won't have escaped your notice that this issue is dedicated to the players and gear that are the building blocks for the future of the guitar. Although reports of its demise have been greatly exaggerated, it's true enough that our beloved instrument's role in pop culture has shifted in recent years. And with so much processing power devoted to recreating old tech, it's no wonder that outsiders sometimes look at aspects of our industry with incredulity – after all, who wants to drive a new car manufactured exactly like a death trap from the 1950s, or equip their kitchen with a NOS refrigerator containing lethal quantities of sulphur dioxide and methyl formate?
From a design perspective, the most popular tools of our trade hit their high-water marks many decades ago, but that doesn't mean guitar music is inherently retrograde. Classical composition carried on evolving ferociously long after the death of Antonio Stradivari and similarly, people will continue to pick up Strats and change the course of pop for decades to come. Our New Breed list proves that young and exciting guitar players of all genders and innumerable styles are still making waves – your new playlist starts here!
Of course, not everybody wants to play vintage-style gear and we'd never want the guitar industry to stop innovating. Our Future Sounds issue also includes reviews of daring modernistic designs from Millimetric and Relish, Gibson's latest reimagined take on the Les Paul Standard and Blackstar's new digital combos from the Silverline Series.
We also speak to Beats president Luke Wood, get the skinny on the audio-company chief's life at the cutting edge of alternative music and find out where he sees the guitar heading – it's a fascinating read.
Finally – and I can scarcely believe I'm typing this already – NAMM 2020 is approaching fast. Please get in touch via the usual channels and let us know what you think are likely to be the key trends and biggest launches at the show. It's been a decade during which technology has made our lives as guitarists easier and even spawned new musical genres. Just like you, I can't wait to see and hear what happens next.
We present The New Breed – 35 diverse young musicians who represent the most exciting new talent in guitar. Some are boundary-pushing virtuosos, or sonic experimentalists planting the flag in new genres. Others are operating in spaces where in the past, they've not always been welcome. The guitar is not dead – in fact, the guitar is thriving.
Over the past 30 years, Beats Electronics president Luke Wood has been a key player in the music business. From Kurt Cobain to Elliott Smith and Phoebe Bridgers, he's been instrumental in the careers of some of the most talented songwriters of the modern era, all the while staying true to a creative approach that encourages experimentation and embraces the weird. We visit him at home in Los Angeles to talk guitar and find out more.
home page
Only registered users can see Download Links. Please
or login.