Soundiron Little Wooden Flutes [KONTAKT]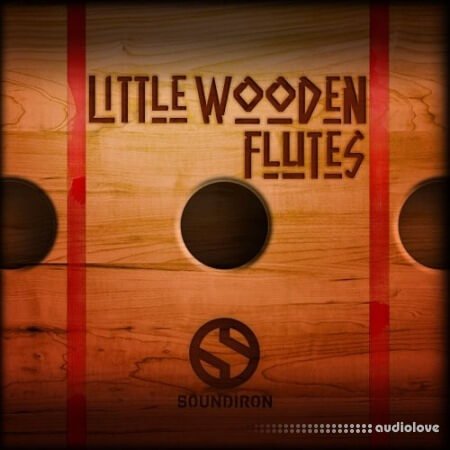 AUDIOSTRiKE | 23 June 2015 | 1.89 GB
Welcome to Soundiron's Little Wooden Flutes! This soulful collection features an Indian Venu flute recorded in a dry studio environment as well as several Native American Plains flutes recorded in a large open sanctuary hall to provide a rich, natural reverb. We've also included a broad collection of outstanding atmospheric, synth and pad instruments hand-crafted from the raw flute recordings to provide even more creative possibilities. Carrying the spirit and soul of the flutes, these sounds offer excellent accompaniment and texture that can be used both with the flutes and in any number of other ways, in any style of music or sound design.
For the Indian Venu flute, we captured three styles of multi-sampled sustain and staccato notes: normal, trilled and overtone bursts, all with multiple round robin. The Venu was recorded in a dry studio with both a large diaphragm condenser microphone as well as a more modern transformerless cardioid microphone. In addition, there are sets of live performance phrases in a variety of keys, styles and tempos. The Native American Plains flutes feature a broad range of live performance phrases and short special flute effects all captured in a large sanctuary with multiple mic positions.
As usual, we have included an enormous amount of flexibility and control packed into every preset. The program interface allows key transposition, tempo adjustment and a whole host of customization features to allow the content to be used in any number of ways. We've also included our comprehensive FX Rack panel, with multi-effects, compression, EQ, amp/speaker simulation and convolution reverb, featuring dozens of our most popular custom recorded rooms, halls, cathedrals and otherworldly fx impulses easily available right through the interface.
The Indian Venu flute is an ancient end-blown keyless transverse flute used widely in both modern and traditional Indian folk music. Primarily found in southern India, it is often depicted being played by the Hindu god Krishna. The Venu we recorded for this library is peculiar in that it is a 7 holed flute carved from rosewood, rather than the typical 8 hole bamboo material you'll find in most venu flutes. This difference gives it a warmer, fuller sound. It is tuned in the key of C minor.
The Native American plains flutes we recorded were carved from walnut and cedar, in the keys of D and G minor. They are traditional end-blown 8-hole flutes, with two air chambers joined by a channel covered by an ornate block often called a "bird" or "fetish". These flutes have a mellower, darker and generally softer sound, yet have the ability to produce powerful trills, overtones and chirps. Finally, we took the source material and contorted it into a broad selection of ambiences, drones, atmospheres, pads, leads and special FX instruments.
2 Dry mic types (cardioid & condenser) w/independent volume and panning
2 Hall mic positions (stage & far) w/independent volume and panning
Normal, Trill and Overtone Multi-sampled Sustains with natural decay and infinite sustain
Normal, Trill and Overtone Multi-sampled Staccatos
Live performance phrases with pitch transposition, instant pattern sequencing, legato blending, tempo-synching/time-stretching, shaping and more.
Phrase sequencer allows for per-slot phrase start and end markers for unlimited flexibility.
Trills, Breaths, Chirps, Overtones and other flute effects.
Special Extended Range Sustain "Pad" preset.
Tons of bonus vocal Ambiences, Atmospheres, Tuned Pads and other custom melodic instruments crafted directly from the flute source.
Swell control allows real-time dynamic performance shaping.
Full Multi-FX rack panel with Chorus, Compression, Distortion, Amp and Cab simulation, EQ, Delay and Reverb
Our Reverb rack unit includes 25 unique creative FX convolutions and 45 excellent live rooms, studios, chambers, cathedrals, halls and other real-world environments, with flexible tone, size and mix controls.
Fully automatable, with customizable key switch and GUI controls.
Convenient real-time visual wave-form display in every preset.
home page
Only registered users can see Download Links. Please
or login.