Overloud Choptones Brit 1959 RR [Synth Presets]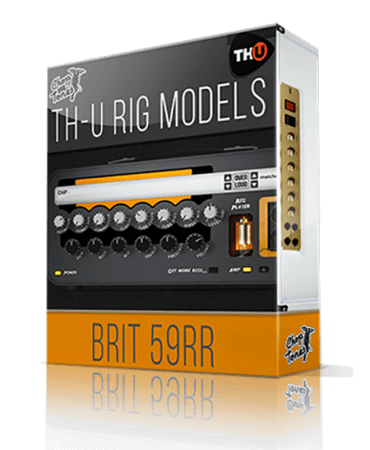 R2R | 02 November 2019 | 1 MB
Brit 1959 RR Giant Pack is the TH-U expansion library, created by Choptones, seeking to recreate the sound of a Marshall* 1959RR Randy Rhoads* Signature head.
The 1959RR is a tribute to a timeless talent: the great Randy Rhoads.
After visiting the Marshall factory, he was so enthusiast to order two 1959 stacks, with a little - but dramatic - mod that simply cascades the two halves of the first preamp tube (ECC83) giving a lot more of preamp distortion.
As in the Randy prototype, the 1959RR features this mod, giving you the classic 1959 tone using the high treble channel and the modded one using the normal channel.
The Brit 1959 RR contains 148 rigs, which have been captured using the following gear*:
Cabinets
Marshall 4x12s loaded with Celestion G12C, Rola G12-80, G12M, V30, G12-50, G12K100, G12T75
EVH 5150III 4x12 loaded with Celestion G12EVH
Friedman 4x12 loaded with Celestion G12M
Mesa Boogie 4x12 loaded with Celestion V30
Mesa Boogie 2x12 loaded with Celestion V-Type
Marshall 2x12 loaded with Celestion G12M Blackback
Mics
Shure SM57, SM58, SM7, Unidyne III
Sennheiser MD421, e609
Royer R121
Audix i5
Heil PR30
Audiotechnica AT2035
Beyerdynamic M160, M201TG
Electrovoice Cardinal
Neumann U87
Grundig GDM121
Retrotube II
RM700
Boosted with:
MXR Wylde OD
MXR Berzerker OD
MXR Modified OD
MXR 5150 OD
Maxon OD808
Maxon OD808X
Ibanez TS9
Mesa Flux Drive
Mesa Grid Slammer
Seymour Duncan 805
Protone Attack OD
Marshall Bluesbreaker
Boss SD1 TS808 Mod
Boss HM2
Klon Centaur
Radial Hot British
Digitech Bad Monkey
home page
Only registered users can see Download Links. Please
or login.