Soundiron Hopkin Instrumentarium Tines and Echoes v1.0.0 [KONTAKT]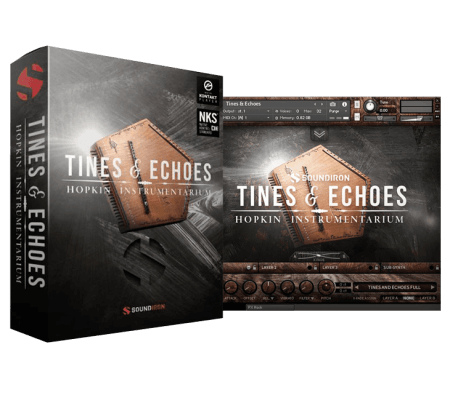 FANTASTiC | 19 November 2019 | 2.11 GB
Tines & Echoes is a unique hand-crafted tuned percussion instrument created by instrument designer and sound sculptor Bart Hopkin. It's a pentagonal sound box with 25 chromatically-tuned metal tines that each have a pair of sympathetic strings spanning the instrument's sound board. Rather than tuning the sympathetic strings to their primary tines, they are tuned randomly, so that vibrations resonate different string combinations bound to other tines. When the tines are plucked, they produce a sharp, crisp water-drop note that reverberates through the sympathetic strings and across the instrument in a soft ghostly ring, reminiscent of the celestial wash you hear when playing the undamped top octave of a piano.
We've faithfully sampled tine plucks and percussive hand slaps on the instrument body, with two stereo mic positions. We also include a wide selection custom FX presets and lots of our signature sound designed ambient and cinematic content, created from the raw acoustic source to give you complete creative freedom.
CONTENTS
The Kontakt interface includes a suite of automation-ready sound-shaping controls to give you total creative flexibility. You have control over swell, attack, release, offset, vibrato, filter, pitch (coarse & fine), articulation switching, cross-fading and layering, and so much more. We've also included 20 unique sound-designed custom FX presets to give you lots of creative options.
This library comes with an adaptable LFO system, with selectable LFO shape, modulation target parameter, speed, intensity, tempo-syncing and fade-in time. You can also apply your choice of 12 lowpass, high-pass and FX filters, with assignable modulation targets such as velocity, modwheel, expression, after-touch, key position and step-sequencer table control. Our customizable arpeggiator offers a velocity table and control over arp direction, timing, swing, randomization and duration. We've included a key and scale lock system to constrain your notes to common scales and keys for easy melodic composition and live performance.
The interface is rounded-out by our modular FX rack panel, with 18 different DSP effect modules that you can assign in any of 10 available slots, in any order that you wish. You'll find classic phaser, flanger, delay, distortion, amp and cab simulators, compressors, EQ, rotator and so much more. The Reverb effect includes our favorite convolution reverb impulse responses, including 99 different rooms, halls, chambers and outdoor environments, plus another 40 custom FX impulses to radically transform the sound and open up whole new worlds of musical possibility. We've added a great bank of FX rack chain factory presets to get you started!
25 chromatic plucked notes with two microphone positions
Percussive knock effects
23 ambient effects, pads, and drones created from the source content
20 custom sound designed FX and ambient presets
Flexible and intuitive multi-layer user interface controls, with LFO, filter, glide, and arpeggiator.
Full FX rack with convolution reverb with custom rooms, halls, chambers & FX environments
Product Specs
1 Master NKI instrument bank
20 Custom sound designed FX and ambient presets
25 Chromatic plucked notes with two microphone positions
Percussive knock effects and 23 bonus ambient effects, pads and drones
24-bit, 48 kHz Stereo Lossless NCW Format.
3,373 stereo samples
4.05 GB Installed
Made for the free Kontakt Player (version 6+), Komplete Kontrol, all S-Series Keyboards and NKS software and hardware by Native Instruments
home page
Only registered users can see Download Links. Please
or login.