Truefire Jesus Hernandez's Latin American Guitar Guidebook [TUTORiAL]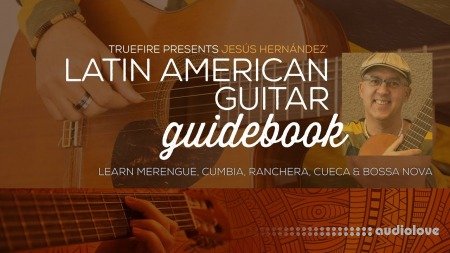 P2P | 23 November 2019 | 932 MB
Learn Merengue, Bossa Nova, Samba, Cumbia, Ranchera, Cueca, & Bossa Nova Guitar
Latin America has a rich musical culture with the guitar often at the center of attention. The guitar parts feature intricate right-hand rhythms enhanced with rich harmonies and beautiful melodies.
Jesús Hernandez's Latin American Guitar Guidebook explores this vibrant musical landscape by examining eight of the most popular styles from Latin America.
"We'll learn how to play the swinging rhythmic patterns of the Merengue from Venezuela and the Dominican merengue. We'll dig into the Cumbia, a courtship dance from Columbia, and the Vals from Peru, also accompanied by a Cajón. Mexico has given us the Ranchera, frequently played by mariachi bands. Many of these styles are made for dancing, like the Cueca, originating in Chile, Argentina and Bolivia. And of course, the Samba and the Bossa Nova from Brazil."
Jesús Hernández is a Cuban guitarist, bass player, singer, Cuban Tres player and percussionist who wrote the highly acclaimed Buena Vista Cuban Guitar Guidebook. We're thrilled to welcome Jesús to the family with his first TrueFire course, the Latin American Guitar Guidebook! You will likewise be thrilled as you join Jesús on this musical adventure through Latin America.
Jesús kicks off the course with a series of video lessons that focus on the different technical and musical elements that define each of the 8 styles featured in the course. In the second half of the course, you'll play your way through a series of performance studies in each of those styles. Jesús will first perform the study and then break it down emphasizing the key concepts and techniques in play.
home page
Only registered users can see Download Links. Please
or login.