Analog Obsession DYNASAUR v2.0 RETAiL [WiN, MacOSX]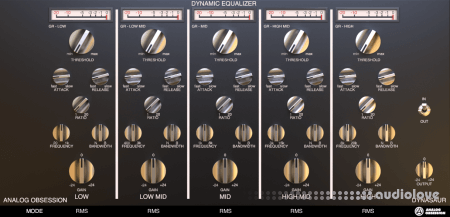 Team DECiBEL | 10 January 2020 | 172.6 MB
Intelligent Processor!
"DYNASAUR" is the best helper to tame your annoying frequencies. Dynamically ride your EQ or shape your sound with pure static EQ. Use it as de-esser, multi-band compressor or peak rider!
Unique Feature
Don't miss unique feature! All bands have RMS or PEAK mode to get best result! For example, low-end has more energy and less peaks/dynamics but high-end or mids have less energy and more peaks/dynamics. While taming your lows, use RMS mode for better control. And you can use PEAK mode with mids or highs to catch peaks! It's totally up to your material. You sound, your choice!
FEATURES
5 band dynamic equalizer with 2 shelves and 3 peaks
Adjustable Attack (1ms to 50ms) & Release times (30ms to 3sec)
Adjustable Ratio (1:2 to 1:20)
60 dB Threshold range
Static boost/gain recover +/- 24dB
Low Shelf : 20Hz to 1kHz
Low Mid : 400Hz to 3kHz
Mid : 1kHz to 8kHz
High Mid : 3kHz to 15kHz
High Shelf : 8kHz to 20kHz
Bandwidth (Mids) : 5 Oct to 0.4 Oct
Bandwidth (Low & High) : 5 Oct to 0.4 Oct (Instead regular bandwidth control, it will set energy for low-end and high end.)
Gain : +/- 24dB (As static eq or gain recover)
Mode : RMS & PEAK (RMS will detect your frequencies' RMS level and set your gain reduction according to RMS. PEAK detects peak levels to set your gain reduction.)
Readout for better parameter tracking
Version 2.0

Added internal oversample
Minor bug fixes
home page
Only registered users can see Download Links. Please
or login.