Prosonic Studios Midi Grooves Jazz and Big Band Drum Library [MiDi]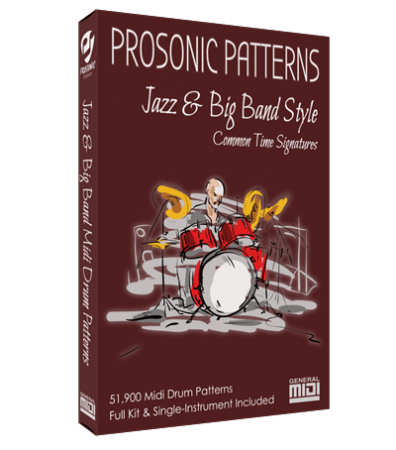 P2P | 07 December 2019 | 23.91 MB
Prosonic's Jazz & Big Band Drum Library is packed with thousands of professional midi drum beats in complex time and they're all royalty free!
4-bar loops in this library:
36,798 Full Kit Loops
957 Kick Loops
94 Clap Loops
933 Tom Loops
1,075 HiHat Loops
1,119 Snare Loops
901 Side-Stick
186 Bongo Loops
622 Conga Loops
333 Cabasa Loops
563 Maraca Loops
70 Clave Loops
56 Cuica Loops
289 Shaker Loops
1,263 Ride Loops
351 Tambourine
425 Cowbell Loops
220 Triangle Loops
35 Timbale Loops
24 Agogo Loops
More Information:
You just found THE ULTIMATE DRUM PATTERN LIBRARY.
This isn't like one of those old "drum pattern" books made of paper. It's a full-blown midi library that's over-flowing with thousands of professional Jazz & Big Band drum beats and rhythm patterns!
You'd have to purchase thousands of drum books to even come close to the content in this library, and since they're all midi, you can hear the rhythm instantly with any MIDI instrument you have. No paper book could ever do that!
This collection is like having a WHOLE LIBRARY of drum books, and you can use the beats in your own music royalty-free!
These Jazz Drum Beats have been inspired by greats like: Louis Armstrong, Duke Ellington, Miles Davis, Charlie Parker, John Coltrane, Dizzy Gillespie, Billie Holiday, and Thelonious Monk and the Big-Band Drum Beats have been inspired by greats like: Glenn Miller, Gene Krupa, Benny Goodman, Frank Sinatra, Dizzy Gillespie, and many others.
Each beat is carefully crafted-to-groove, so there isn't a bunch of "flash" in there (like so many other libraries where the drummer's just showing-off). The beats in this library are solid and professional, with just enough fill to make them interesting, so you can actually build songs that work.
I've experienced instant-inspiration and song writing has never been easier. Each rhythm is like a "creative launch-pad" for your ideas and the 'next part' in the song just leaps out at you! I get so many ideas that the challenge now is getting them all recorded fast enough!
If you perform an instrument these patterns are an invaluable tool for learning rhythm. I play a lot of different instruments and these have instantly made me a better player.
There are over 48,100 four-bar Jazz & Big Band rhythms in this library [and they all sound as good as the demos] so be ready to take your music to the next level!
home page
Only registered users can see Download Links. Please
or login.