Toontrack Big Band Grooves MiDi [MiDi] [WiN, MacOSX]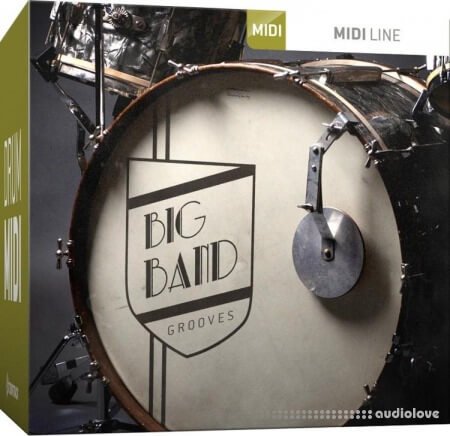 P2P | 11 December 2019 | 10 MB
GROOVE-APPROVED.
Drum grooves, fills, breaks and pick-ups inspired by the iconic drummers of the big band era.
The big band and swing era of the early 20th century wasn't only significant because it introduced jazz music on a major scale to the general public, but for several other reasons as well. First, it very much defined what we still refer to as a 'drum kit.' Before the jazz age, drum sets were comprised of pretty random pieces of percussion. The big band format actually in many ways standardized the kick/snare/hi-hat/tom-tom format. Second, likely no other genre has produced more timeless drum icons. Still today, we marvel at the technicality, finesse and almost weightless facility of "Papa" Jo Jones, Gene Krupa, Chick Webb, Buddy Rich and many more. The ripples of their propulsive swing have yet to ebb away – in some cases a century later. Third, it instituted the drummer as a soloist, cemented the instrument as the pivot point of the rhythm section and attributed a showmanship, a playfulness and an element of storytelling to the art of playing drums that had yet to be seen. All in all, this era was a turning point for drums on a whole and the very art of playing them in front of an audience.
This MIDI pack is performed in the shadow cast by the giants and inspired by the almost bottomless well of inspiration they created. Expect anything from the sophisticated and subtle to the fiercely intense and syncopated. From a wealth of traditional swing material in various tempos to a latin-flavored collection of straight bossa nova-inspired beats, these grooves have all the traits you need to lay down the perfect big band drum foundation.
FEATURE SPOTLIGHT:
Drum MIDI grooves and fills inspired by traditional big band arrangements
Performed by classically trained jazz session drummer
2/4, 3/4 and 4/4 in straight and/or swing feel with tempos ranging from 85 BPM to 296 BPM
More than 500 individually played files in total
Organized in 'Slow,' 'Medium,' 'Medium Fast,' and 'Uptempo' folders for swing feel
Organized in 'Latin,' 'Bossa Nova' and 'Songo' folders for straight feel
Dedicated section for genre-typical tom grooves
Ideal for jazz/big band arrangements, scoring and general songwriting
home page
Only registered users can see Download Links. Please
or login.