TrueFire Stu Hamm's Funk Bass for Beginners [TUTORiAL]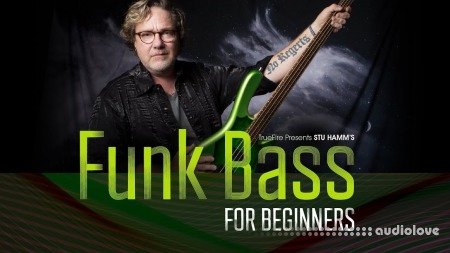 P2P | 29 December 2019 | 1.23 GB
Learn Essential Slap, Pop, and Finger Funk Techniques
Bass is very prominent in funk music. Whether it's slap and pop thumb bass ala Marcus Miller, Les Claypool, Bootsy Collins, Flea or the rapid-fire finger funk of players like Tower of Power bassist Francis Rocco Prestia, James Jameson, or the great Jaco Pastorius. You'll also hear funky bass techniques and grooves in other popular styles of music such as rock, blues, R&B, and jazz.
Recording artist, composer, and monster bassist, Stu Hamm is also one of the pioneers of the funky slap, tap and pop techniques that are so popular today in so many styles of music. Stu's Funk Bass for Beginners is designed to give you all the tools you need to be comfortable playing funk bass in any style of music where bass is so prominently featured.
"You're going to learn all of the basic techniques that you'll need to start playing funk bass. I'll show you how to get a good solid tone by striking the string with your thumb, and by plucking up on the strings to get that "popping" sound. We'll work on techniques that combine these two styles. Then we will work on "finger funk" in the style of top bassist Rocco and Jaco. We'll also learn a few 'double stops" to add flavor to your funk!

Together, we'll play our way through a series of lessons and playalongs designed to help you develop all of the essential slap, pop, and finger funk techniques - you'll be jamming with your buddies in no time at all!"
Stu organized the course into 7 sections. In the first section, you'll work on warm-ups, stretching, thumb tone, syncopation, thumb bounce, and a funky playalong. The second section is all about popping with your thumb. In the third section, you'll tackle slides and double-stops.
In the fourth section, Stu shows you how to play hammer-ons and paradiddles. The fifth section is dedicated to finger funk techniques. Tritone double-stops is focused on in the sixth section. And finally, in section seven, Stu shows you how to get the most out of open strings. All of the sections feature playalongs so that you can immediately apply the new techniques in a musical context.
All of the key lessons, practice sessions, and playalongs are transcribed in both standard notation and tab and you'll have all of the backing tracks to work with as well. You can loop or slow down any of the videos and tabs so that you can work with the lessons at your own pace.
Grab your bass, and let's get funky with Stu Hamm!
home page
Only registered users can see Download Links. Please
or login.