NoiseAsh SpeakerSim CM Edition v1.0 [WiN, MacOSX]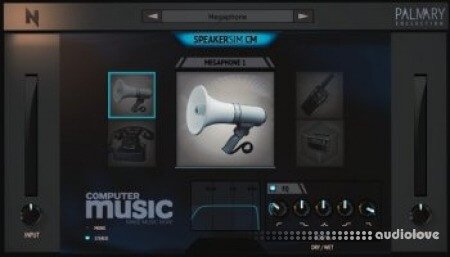 P2P | 02 January 2020 | x64 x86 VST AU AAX | 133 MB
In order to give track elements the classic 'telephone' treatment, options are limited: invest in an expensive speaker-simulation plugin, dial in your own fiddly processing setups from scratch, or laboriously reamp the signal through an actual speaker or phone. Surely there's an easier, cheaper way?
Enter SpeakerSim CM, a simple speakeremulation tool (PC/Mac, VST/AU/AAX) from NoiseAsh, free with this issue. Load SpeakerSim CM as an insert effect over vocals, drums, basslines or synths, then select one of the four speaker models – an old phone, megaphone, radio or walkie talkie – to funnel your signal through the chosen playback system.
Aside from the advanced EQ and convolution trickery used to emulate these particular sonic spaces, SpeakerSim CM also gives you several options for customising your 'reamped' signal: tone shaping is taken care of with Moog-esque high-pass and low-pass filters, plus a three-band EQ; flip the output between Mono or Stereo; blend the dry signal back in; and keep overshoots in check with the crunchy underthe hood limiting stage.
SpeakerSim CM is useful in a range of scenarios. Call it up as a characterful effect in the mix, create stark transitional switches in the midst of an arrangement, use it as a parallel sweetener for subtle vibe, or even pop it on your master bus to hear how your entire mix might sound when played back on a low-quality phone or speaker – ideal when A/B referencing.
One you've had a taste of SpeakerSim CM's speaker-emulating talents, take a closer look at the full version of SpeakerSim, which ups the model count to a whopping 18. Additional speaker types include an answering machine, three megaphones, headphones, toy cars, guitar cabs, turntables and more. And this is just one of the ten effects available in the full Palmary Collection bundle, which features creative processors such as Action Delay, Frozenverb, Stereo Finalizer and Devastator. Find out more at noiseash.com
home page
Only registered users can see Download Links. Please
or login.