Ueberschall Batucada [Elastik]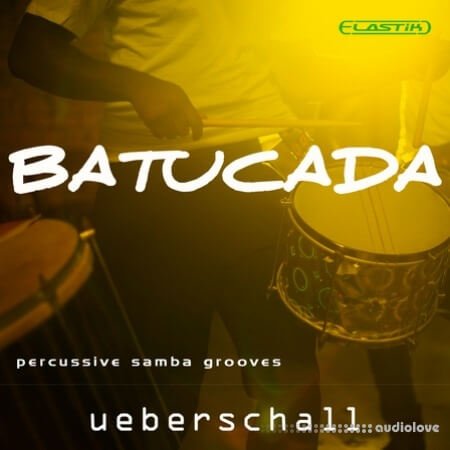 AUDIOSTRiKE | 07 February 2015 | 1.08 GB
The hypnotic percussive rhythms of the Brazilian carnival are built on Batucada, a samba-based style with an African influence and played up-tempo and ensemble. This library captures the excitement and passion of the style with both ensemble and solo performances. Build your own carnival atmosphere in an instant.
Played by an experienced Bateria ensemble, a full suite of percussion instruments typical of the style were used including repinique, caixa, agogo, timba, rocar, ganza, apito and the mighty surdo, to achieve a full and authentic sound. The Batucada library covers the basic rhythms like samba, afoxe, coco and samba-raggae. With 600 loops in 1.58 GB of samples, the material is organised into three categories for maximum flexibility:
1- Full ensemble grooves with pre-mixed loops can give you an instant fix.
2- Breaks, with sparser playing, allow you to lower the energy and add variety.
3- A selection of construction kits, with each instrument presented as a separate track, allows you to build your own mix. Each kit comes with intros, breaks and main parts.
Authentic Batucada grooves
Tempos are dominated by the 120 to 135 BPM range but, with some slower tempos loops included, and Elastik's excellent tempo-manipulation algorithms, these grooves can be made to work in any context, whether that is full-on street carnival or to give a hot rhythmic feel to your latest urban, dance or house track. For music producers or media composers, Batucada delivers a genuine flavour of samba street rhythms.
Instruments included
Repinique (tom-like drum)
Caixa (snare)
Tamborim (frame drum)
Timba (conga)
Surdo (low, mid, high) (bassdrum-like drum)
Agogo (bell)
Triangle
Rocar (tambourine)
Ganza (shaker)
Apito (whistle)
Pre-mixed grooves and individual instrument tracks
Ueberschall's loop-based Elastik player is the ideal plug-in for libraries such as Batucada. Its elaborate time-stretch- and pitch-change-algorithms allow matching of loops to any song within seconds. Using Elastik player's attribute-based browser, all libraries can easily be searched for beats, basslines, synth-loops and sorted in categories, by base pitch and original tempo. Hence, all instrument-phrases and drum-loops of a construction kit can be transposed, tempo matched and adapted to another kit effortlessly.
Drastic sound manipulations are possible by Elastik player's sequencer-controlled functions such as formant, resample, reverse and a multimode-filter.
home page
Only registered users can see Download Links. Please
or login.