MAAT thEQblue v3.1.0 Incl Emulator [WiN]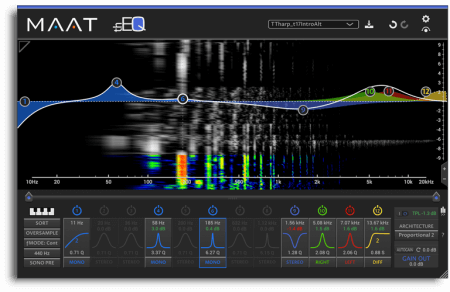 Team R2R | 06 December 2021 | 37.6 MB
A dozen precision variations on "analog," all in one EQ.
Beautiful analog architectures, twelve in all, that will take your work out of the ordinary.
ThEQblue builds on the groundbreaking foundation of Algorithmix's Classic PEQ Blue, while bringing that reference quality into the 21st Century. thEQblue is a collection of up to twelve minimum phase equalizer architectures, all employing 80 bit floating point internal precision. We reverse engineered a variety of well respected hardware EQs, creating idealized digital versions from that inspiration. Rather than models or simulations that carry analog "baggage," thEQblue has no noise, distortion or other secondary effects inherited from analog.
Features
Fully parametric minimum phase EQ
Up to twelve unique idealized architectures, derived from analog circuits
Panorama control targets left–only, right–only, mono–only, L-R–only, or stereo
Optional live spectrogram
AutoGain for effortless A/B comparisons
Variable resonant ƒ tunings for common Western scales
Inbuilt tone generator for quick spectral navigation
home page
Only registered users can see Download Links. Please
or login.