MAAT DROffline MkII v2.2.3 Incl Emulator [WiN]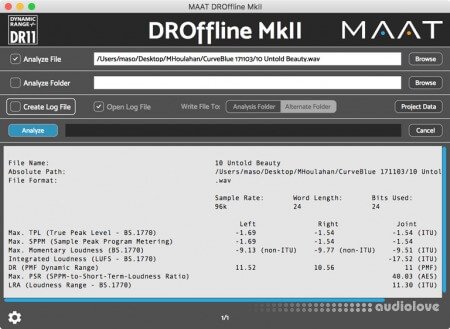 Team R2R | 06 December 2021 | 4.3 MB
MAAT's DROffline MkII is the batch measurement companion application to our official DRMeter MkII real time DR + R128 measurement plug-in.
Measure R128 Loudness, DRi & More
MAAT's DROffline MkII batch measurement app is the only software that automatically measures all mandated R128 parameters, along with official DRi and a host of key metrics that your DAW may not display. All this in the background and out of your way. Offering essential options for musically justified, file–based metering, DROffline MkII offers 24 different measurements, including integrated DRi Dynamic Range and PSR, the emerging Sample Peak–to–Short Term Loudness Ratio. One file can be evaluated, or an entire directory can be measured in batch mode, all in the background while you continue to work.
DROffline MkII generates both plain text and tab–delimited text logs, with optional engineer and studio metadata, so you can hand your clients good looking reports that they can use for replication, distribution and as documentation for post, provenance, or chain of evidence.
Attention Pro Tool & Logic users! DROffline MkII offers easy access to all audio statistics and metadata, with an instant drag & drop interface. Speaking of drag & drop, DRO2 works in conjunction with DRMeter MkII to run measurements when you drop an audio file onto a DRM2 instance in your DAW.
home page
Only registered users can see Download Links. Please
or login.