Native Instruments iMaschine 2 v2.2.2 [iOS]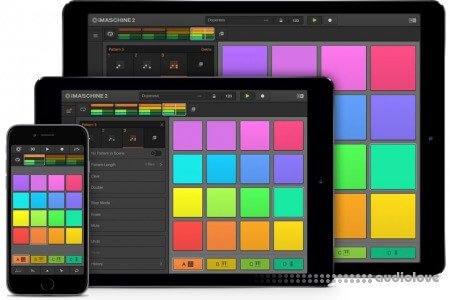 P2P | 10 January 2020 | 324 MB
MAKE MUSIC ANYWHERE
Produce tracks on the go with iMASCHINE 2 and share your creations with the world.
///MAKE. ARRANGE. SHARE.MAKE
Create a beat on 16 pads with hundreds of professional sounds. Use the Smart Play keyboard to add melodies and basslines that are always in-key. Spice up your track with vocal and field recordings or sample directly from iTunes. Use Apple's 3D Touch technology to optimize your workflow and get even more creative.
ARRANGE
The Arranger in iMASCHINE 2 lets you turn your loops and scenes into full tracks with the swipe of a finger. Add parts quickly and easily. Change the color of your pads or groups to see your entire arrangement at a glance – rearranging and editing tracks on-the-go has never been quicker or easier.
SHARE
Share your creations with the world by uploading them directly to Soundcloud. Or export your projects to the MASCHINE 2 software and continue working on them in the studio with your full MASCHINE hardware setup.
///KEY FEATURES OVERVIEW
- Use 16 pads for real-time drum sequencing on your iOS device
- Quickly create beats without finger drumming using Step Mode
- Use the Arranger to structure your track by adding, moving, and deleting different patterns on the fly
- Play always-in-key melodies and basslines by combining Chord, Scale, and Arpeggiator features with the Smart Play keyboard
- Use Note Repeat in Keyboard and Drum Pad Modes to create rolls, fills, and fast note attacks with note ranges from 1/4 notes to 1/32 notes
- Better organize your sounds using multi-colored pads and groups
- Optimize your workflow using Quick Actions with Apple 3D Touch for app and pad shortcuts*
- Control the velocity or rate of note repeat depending on how hard you press the screen using 3D Touch*
- Capture vocals, field recordings, or any audio from the microphone on your iOS device
- Sample directly from your iTunes library
- Mix your sounds and choose from professional audio effects
- Open your existing iMASCHINE projects effortlessly in iMASCHINE 2
- Start building tracks immediately with the included extended iMASCHINE 2 library, featuring over 300 MB of content: 19 projects, 38 drum kits and over 750 samples
- Choose from a huge collection of additional drum kits, projects and instrument sounds from top sound designers and renowned artists with iMASCHINE Expansions – available at the In-App Expansions Store
- No matter which iOS device you use, iMASCHINE adapts to your screen size – a compact workflow for iPhone and an optimized iPad workflow for two-handed groove production
- Learn how to use the app and discover helpful tricks with the New Features Notification function
- Export your mix as an audio file or directly upload it to SoundCloud and share it with the world
- Export your project (including samples) to MASCHINE STUDIO, MASCHINE, and MASCHINE MIKRO. Projects exported to MASCHINE support multiple Scenes as well as Pad and Group colors.
- Universal App. Purchase the app and iMASCHINE Expansions once and use them on all iOS devices registered to that iTunes account
What's New 2.2.2
Thanks for using iMASCHINE 2 and leaving us your valuable feedback.
For version 2.2.2 we fixed a layout with keyboard mode on 10.5" and 11" iPads.
For help, tips and tricks, please visit the iMaschine 2 Forum: (https://www.native-instruments.com/forum/forums/imaschine.293/)
Requires iOS 12.0 or later. Compatible with iPhone, iPad
home page
Only registered users can see Download Links. Please
or login.