Kuassa Efektor RV3604 v1.1.0 [WiN]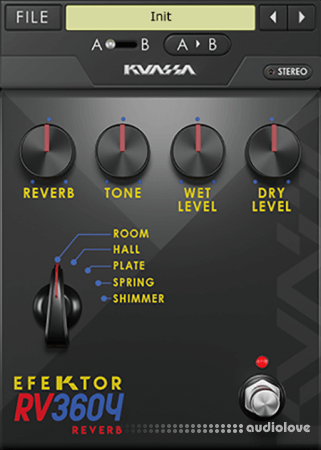 Team R2R | 18 November 2022 | 8.7 MB
Reverb FX Engine
Don't let the 4 knob parameters fools you! With only those, you can easily transform your sound from a subtle roomy ambience to an epic goodness.
Efektor RV3604 Reverb with 5 type of versatile guitar pedal effect reverbs are made for great recordings of the century. RV3604 use simpler controls for your roomy ambients, surfboard crashing waves, far-reaching space, sun-over-the-clouds moments and holy-lights-from-the-sky epicness.
The most commonly used effect on every source of every recordings. Found on small practice amps to big touring amps. Also on stompbox pedal effects to large studio rack units. It's usage is somewhat tricky, but it could be the fine border of a professional recording and a beginner's work. Reverb is a powerful tool to add depth, distance, and also to build emotion to the listener. It gives ambience, creates space, and produces a sense of three dimensional to the original sound.
Taken the algorithms from the sounds of natural spaces to artificially created electrical and mechanical devices, Kuassa Efektor RV3604 Reverb provides five types of Reverb to enhance your recordings:
Room: Tight and fat roomy sound
Hall: Big and wide concert space
Plate: Simulated vibrating metal plate. Grainy and unique because the low frequency propagates slower than the high freq.
Spring: Simulating mechanical springs commonly found on guitar amps
Shimmer: Haunting and atmospheric reverb, created by pitch shifting the reverb tails
Key Features :
Epic sound quality with simplified controls. Dial fewer parameters and get great result instantly.
Separate Wet and Dry controls
Photorealistic graphics for lifelike guitar playing experience
Straightforward and easy to use interface
Support up to 96000Hz Sample Rate
CV Inputs for Automation (Rack Extension only)
home page
Only registered users can see Download Links. Please
or login.