Tone2 FilterBank 3 v3.4.0 [WiN, MacOSX]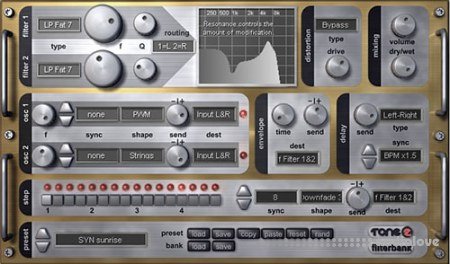 WIN: Team R2R | 11 January 2020 | 3 MB
MAC: P2P | 03 September 2017 | v3.4 |4.12 MB
Tone2 FilterBank is more than an analog modeled filter plugin - it is a synthesizer AND a flexible multi-effect unit. The modular design and flexible modulation routing give you almost unlimited possibilities. With a massive amount of filters, oscillators and feedback you can create complete sequences and textures.
► Live usage
All parameters can be tweaked in realtime. If you are using a mouse, the plugin smoothes your movements automatically - without clicks or glitches. FilterBank3 is never out-of-beat because it automatically synchronizes delay times, LFO's and the step sequencer to your host's BPM rate.
► User friendly interface
It displays your results in realtime. This makes it easy to understand what you are currently tweaking. Additionally the user interface offers tool tips and help.
► Filters
Two fully independent stereo filters offer the highest sound quality. Tone2 is currently the only company offering such a large and excellent repertoire of filters. The self-resonating Moog cascade filter simulates circuit overloads of analogue synthesizers. FilterBank3 comes with 58 different sounding filter types:
Moog, Lowpass (6-40dB), Highpass (6-40dB), Bandpass, Notch, Allpass, Resonator, Formant, M-shape, Octaved, , Vocal, Phaser, Comb, EQ, FM, AM, Resample, Elliptic, ...
► OSCs
The oscillators can consist of 15 different oscillator types including the classic virtual analog oscillators.
► Effects
A saturation module can add one of several distortions and lo-fi effects:
Bypass, Hard clipping, Tube amp, Presence, Wave wrapping, Wave shaping, Bit crushing, Square shaping, Cubic shaping , Compressor, Warble
FilterBank3 comes with 20 different stereo reverb and delay types. Even parameters like "room size" can be changed in realtime resulting in crazy effects.
58 different high-end quality dual-stereo filters
High sound quality
Flexible, semi - modular architecture and routing
Virtual-analog OSCs/LFOs
FM, AM, feedback
20 Delay types, Reverb, 12 Distortion types
320 presets included
Can be loaded as a synthesizer as well as an effect
Vocal filtering, equalizing, phasing, flanging, compressing, envelope following
The built-in step sequencer can create rhythmic sequences
Syncable to BPM
Realtime frequency display
Easy to use
home page
Only registered users can see Download Links. Please
or login.