TBProAudio DSEQ v3.5.4 / v1.3.1 [WiN, MacOSX]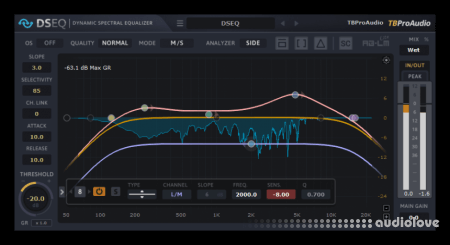 WiN: Team R2R | 07 November 2021 | 5.8 MB
MAC: Team RET | 26 May 2020 | 3.1 MB
DSEQ is a dynamic processor working in the frequency domain.DSEQ is removing digital harshness on the fly thanks to self-adjusting frequency bands.
DSEQ can be used in all mix and master situations:
de-essing vocals
taming resonances in e.g. drum, guitar, vocal recordings
removing digital harshness
balancing the mix
de-masking frequency regions
support of pink noise mixing/mastering
DSEQ works fully in the frequency domain, providing very high frequency selectivity thanks to self-adjusting dynamic equalizers. DSEQ does its job with highest transparency even pushed hard. This avoids distortion, phasing and artefacts even with very critical sound material. And DSEQ offers several quality modes taming even singular frequencies.
On top DSEQ provides a very easy to use interface. With just a few parameters (threshold, selectivity and attack/release) a broad range of applications can be covered. Even the initial parameter set could make your mix more transparent. Just pick the threshold parameter and lower it step by step. From there you can start focusing on specific frequency regions by using the pre-filters.
On top DSEQ comes with AB-LM Lite providing perceptual loudness matching.
Features
smooth linear phase dynamic filter
full frequency range processing, 10Hz – 22kHz
4 different quality modes: eco, normal, high and ultra
left/right and mid/side processing
global slope for detector signal (e.g. pink noise mixing/mastering)
12 independent pre-filter bands
side-chain support
multiple signal monitoring modes (pre-filter, delta, side chain)
multiple spectrum analyzing modes (stereo, left, right, mid, side)
perceptual loudness matching (powered by AB-LM Lite)
extended input/output meter, Peak/RMS/EBU/VU
narrow-band sweeping mode
sample exact A/B toggle for all processing modes
sample rates min. up to 192 kHz
"real" over sampling, up to 4x
EQ cheat sheets
precise parameter input
easy to use GUI
GUI resize up to 2x
preset management
full DAW automation support
64-bit internal processing
very efficient CPU usage design
home page
Only registered users can see Download Links. Please
or login.