SongWish reMIDI Sampler v2.0.5 RETAiL [WiN, MacOSX]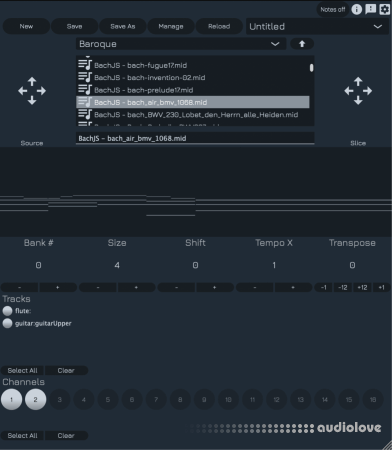 P2P | 12 August 2022 | 44 MB
reMIDI (pronounced 'remedy') is not another music theory MIDI effect plugin. It's the very first MIDI sampler. It literally cuts to the core of the problem of finding inspired musical materials by providing harmonies and melodies that are proven to work – enabling you to sample the royalty-free compositions of past greats (Bach, Chopin, Gershwin, etc).
More in the mood for modern? No problem – You can use reMIDI to get the most out of your purchased royalty-free MIDI loops.
If you can sample audio to help kickstart productions, why not sample midi? You can isolate melodies more easily than audio recordings and you can even extract all the chords used! Best of all - you get to choose the instruments.
reMIDI comes with over 1700 royalty-free midi files in the factory library to sample from. But you're never limited - you can even expand the library by sampling from your own midi!
Connect reMIDI to your favourite virtual instruments and hit the keys/pads on your midi controller to effortlessly find the building blocks for your next track.
You can edit midi notes exactly how you want by dragging out any slice that reMIDI serves up. Make each loop your own. You can even use it to help create a top-selling loop/chord pack.
How Does reMIDI Work?
reMIDI is a plugin instrument capable of outputting MIDI as well as audio. With regard to the latter, a simple sine wave synth sound is built in for scratch work, so you can quickly find a loop for export as a MIDI file entirely within it.
Obviously, though, the idea is to trigger other instruments via reMIDI, and how this is set up depends on the host DAW. For VST hosts (ie, Ableton Live), reMIDI loads as an instrument plugin onto a MIDI track, the output of which is sent to a second track (hosting the target instrument) using the DAW's routing system.
For Audio Unit hosts (ie, Logic), the included reMIDI_MFX MIDI effect plugin is loaded up instead. This is identical to the regular reMIDI, but sits in front of the target instrument on the same track, outputting MIDI directly to it. It's certainly the more elegant of the two approaches, although it only captures the raw triggering notes to the track, not the chords output by the plugin.
Features
Sample from over 1700 complete compositions with masterfully chosen chords, progressions, and melodies
Go beyond robotic arpeggiators by triggering natural midi sequences
Easily audition automatically sampled slices of MIDI that loop perfectly at the touch of a key
Drag sampled chords and progressions out to your DAW
Easily work with MIDI without using a piano roll/note editor
Trust the musical wisdom of master composers – they offer timeless hooks, motifs, themes, and variations – all waiting to be discovered by sampling
Over 150 composers (Bach, Beethoven, Chopin, Mozart, Gershwin, etc)
8 different genres (Baroque, Classical, Folk, Hymn, Jazz, March, Renaissance, and Romantic)
Save your own sample sets to the preset bank for later use
Easily cut the tempo in half or multiply it by any factor while staying in sync with your DAW
Assign any VST / AU instrument to reMIDI to control your favourite synths
Once you find a loop or a chord progression from a MIDI file you can keep searching the same file or other files for variations
Instantly transpose all the notes for endless remixing possibilities
No tedious manual slicing. Just set your starting point and slice size and reMIDI chops up the entire file into even parts
Use multiple instances of reMIDI to build a complete band of virtual instruments (drums, bass, keys, and leads). With this setup, you can conduct a whole band with one finger!
The built-in MIDI file browser makes it a breeze to instantly preview sections of full compositions or MIDI loop packs. Find inspiration in a flash
Browse the factory MIDI containing hundreds of high-quality files organized by style and composer
Expand the MIDI library by dropping your own organized files and folders into the User directory. Limitless sampling!
reMIDI is incredibly fun and addictive
A revolutionary workflow which guarantees you'll consistently make better music
home page
Only registered users can see Download Links. Please
or login.