Additional Libraries / SFX (for Film/TV/Game)
Gothic Instruments Sculptor Epic Risers [KONTAKT]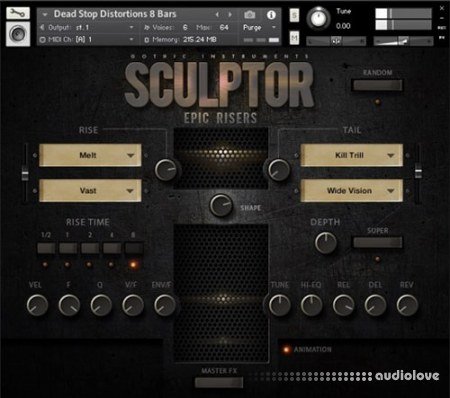 P2P | 03 October 2017 | 383 MB
Rises are sounds that start low in pitch and end high in pitch and they add instant rising excitement to tracks in any genre. SCULPTOR Epic Risers starts with amazing raw rise sounds then makes your life easier by putting them in sync with your projects, adding endless variety and making them very easy to control.
Many existing 'riser' libraries will offer either great sounds which are limited, inflexible and can't be repeated too many times without getting stale; or a flexible but overcomplicated interface with uninspiring raw waveforms like white noise and saw tooth waves which require a lot of work for not very much in return.
Enter SCULPTOR Epic Risers with its combination of supreme sounds, clever behind-the-scenes scripting and straightforward controls...
► WHO´S IT FOR?
TV, Film and Video Game composers and sound designers will love how easy it is to produce rises that range from the most subtle, yet essential, background effects to powerful and startling crescendos. In short, truly emotionally arresting audio that will steer and submerge your audience in their film/tv/game play experience. Combine with SCULPTOR Live Impacts and SCULPTOR Massive Whooshes for the ultimate toolbox of FX.
Music producers will find SCULPTOR Epic Risers to be a highly useful tool for provoking anticipation before a hook or drop, spicing up empty elements of an arrangement, creating transitions and much more.
► THE SOUNDS
Louder, higher pitches are more exciting and emotionally arresting than low quiet murmurs. A transition between low and high brings its own excitement. A low sound quickly rising gives you a sense of approaching danger, with time to make a quick exit plan – as with approaching storms, trains and stampedes. In most scenarios, rising sounds initiate an instant kick of adrenaline!
The important thing for composers and producers is that rises are exciting and if they're noisy enough and not too loud in the mix, they add excitement with enough subtlety to make a great hidden production trick. Loud in the mix, they add marvellous show-stopping crescendos.
Layering up rich rising sounds can be time consuming and difficult, SCULPTOR Epic Risers does all the hard work, leaving you with time to play, experiment and have fun.
Each sound has a main Rise elements and an end Tail element. Each of these is made up of a blend of two sounds, which helps to add spectral complexity and variety to the sounds. Mix and match different sounds, change their volumes, randomise the sounds, change the length of the rise, the pitch, EQ, envelope shapes, filters and send effects (delay and reverb).
The presets are organised into eight folders for speed in finding the type of sound you need – Clean, Hyped, Dark, Vast, Mod Gate, Mod Crunch, Dead Stops and Velocity Control. There´s also a selection of guest presets kindly designed by some of our composer friends.
► The GUI
Dive into a universe of sound sculpting possibilities within the easy-to-use interface...
Mix and match different sounds in the four RISE & TAIL menu windows and control the balance to produce a pure, identifiable sound through to a more complex mixed noisy sound.
Use the SHAPE knob to change the attack and decay slope of the rise from slow to fast depending on your context.
Control the amount of pitch change during the rise with the DEPTH control knob.
Synced to your sequencer tempo, the RISE TIME buttons control the time (in bars) from the time a key is triggered to the peak point of the rise.
Hit the RANDOM button for a boost of inspiration. Infinite possibilities will abound!
Want to beef up your sound? The SUPER button creates an instant thick width effect adding depth and power to your rise. Use with care!
► Master FX Page
This page presents global effects which will affect every sound currently loaded across the whole keyboard. Includes three insert effects (Drive, Compression and Filter) , two send effects (Reverb and Delay) and the Gater – a rhythmical noise gate where you can control the Rate, Depth, Pan and Width of the sound.
Packed with the highest quality raw sounds painstakingly crafted by top Hollywood trailer sound designer Alessandro Camnasio, SCULPTOR Epic Risers will produce incredible sounding sweeps and risers from just a few played notes. Simple yet dynamic features and controls mean you can also dive in deeper to sculpt and enhance your audio in infinite ways.
From subtle adrenaline-inducing risers to loud show-stopping crescendos, Epic Risers will add anticipation, energy and drama to your cinematic productions or electronic music tracks.
► SUMMARY OF FEATURES
Developed for full version of Kontakt v5.6
Includes 254 nki presets including Guest Presets from specially selected composers
Thousands of raw sounds from top Hollywood trailer sound designer Alessandro Camnasio
Flexible, simple interface offers thousands of sculpting possibilities
Add drama to cinematic soundtracks and video games
Create subtle risers that fuel nervous anticipation and unease
Powerful show stopping crescendos to shock and surprise your audience
Create engaging transitions and a rush of energy in electronic music productions
Stuck for inspiration? Hit the RANDOM button for infinite new options
Add depth and power with the SUPER button – use with care!
Total product size: 497MB
home page
Only registered users can see Download Links. Please
or login.