Producertech Producers Guide to Avenger [TUTORiAL]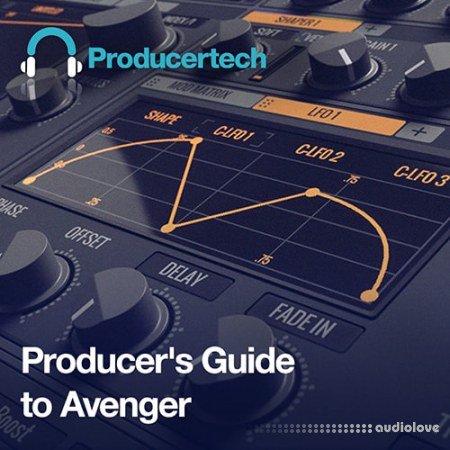 P2P | 07 October 2017 | 1.01 GB
Vengeance Sound's eagerly-awaited plugin Avenger is packed with synthesising and sampling power, making the creation of huge basses, leads and other patches easy with just a little know-how. On this detailed course by Producertech senior tutor Rob Jones, you'll learn every aspect of the instrument and how to combine many of its features in order to create your own cutting edge presets.
Rob begins by working through all of the main sections, including oscillators, filters, envelopes, LFOs, sequencers and arpeggiators, concluding with a look at how to apply insert and send FX, as well as set up macro controls. Once the instrument has been thoroughly explored, there are a series of patch creation lessons that show how to use a whole host of techniques to make basses, leads, pads and more complex multi-sound, sequenced presets.
In addition to the 50+ streamed lessons, which are available immediately after purchasing, the presets from the course can also be downloaded. Take a look at the sample module for an example of the course content, so you can see what to expect from the tutorials, which will take your knowledge of Avenger and sound design to the next level!
► Course Topics:
Module 1 - Course Intro
A brief intro to the course structure and content.
Module 2 - GUI Quick Tips
A lesson with lots of useful tips for working with the Avenger interface.
Module 3 - Browser
A series of lessons that show various aspects of the Browser, for locating, loading and saving presets.
Module 4 - Oscillator Controls
A comprehensive set of lessons that show the wide range of options in each oscillator section, for modifying the fundamental sonic character of presets.
Module 5 - V-Saw and Voicing
An explanation of each main function in the V-Saw and Voicing sections, used to add extra voices to preset, for creating more presence or width, making chords, or adding warbling effects and extra low frequencies.
Module 6 - Oscillator Routing
How the oscillator routing section works, including how to define the level and filtering of oscillators, and how to process them with different types of effects.
Module 7 - Pitch and Mod Envelopes
A guide to the Pitch and Modulation Envelopes, which are used to create pitch shifts or other parameter modulations when patches are played.
Module 8 - LFO and Mod Matrix
Lessons showing how to use LFOs to modulate parameters and then how to manage them in the Modulation Matrix.
Module 9 - Step Sequencer and Arp
How to make various rhythmic patterns using the Step Sequencer and Arpeggiator.
Module 10 - Oscillator FFT Editor
A guide to shaping the frequencies of an oscillator with the FFT Editor.
Module 11 - Wavetable and Sample Editors
How to use the oscillators in wavetable and sample mode.
Module 12 - Creating Waveform Shapes
A demonstration of how waveform shape presets can be made in Avenger.
Module 13 - Drums
Some lessons showing how drums can be played and programmed, for adding fat breaks to a patch.
Module 14 - FX
How to process sounds using insert, send or master FX.
Module 15 - Macros and MIDI Performance Options
A lesson showing how macros are set up and edited on a patch, as well as other performance control options.
Module 16 - Sound Design Examples
A series of lessons that combine many techniques from the course into some patch creation examples, building bass, lead and pad presets, in addition to a sequenced/rhythmic preset that combines drums and FX with an arpeggiated lead and bass.
► What you get:
3 hours of streamed tutorials
Access 24/7/365
Presets from the course
home page
Only registered users can see Download Links. Please
or login.