Sonible smartReverb v1.1.1 [WiN]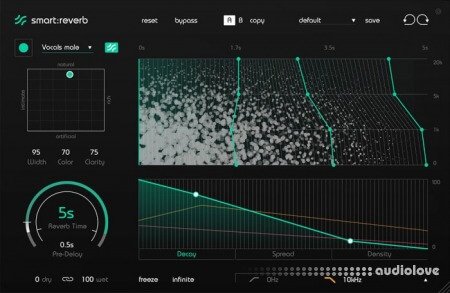 Team R2R | 10 November 2022 | 22.3 MB
smart:reverb delivers custom-tailored reverb by adjusting its processing to the individual characteristics of the input material and creates a navigable range of styles from scratch.
FeaturesReverb that meets the uniqueness of every creationNo disturbing resonances or muddy tailsReverb that truly fits – powered by A.I.
With just one click, smart:reverb analyzes the source material quickly to create every reverb from scratch. By custom-fitting the reverb to the spectral and temporal characteristics of the input signal, typical problems such as disturbing resonances or muddy reverb tails are avoided from the very beginning.
Rich, artificial, intimate, natural – and every style in between
Explore characteristics, not presets
smart:reverb creates reverb based on the source signal rather than working with presets or pre-recorded impulse responses. To find the reverb style you envision, browse through its reverb matrix, in which all possibilities fit to your input signal. Guided by descriptive properties, you'll find what you are looking for – intuitively and efficiently.
The best of both worlds
Stay in control
For maximum control, smart:reverb provides you with an interactive view of the reverb's anatomy. Its detailed interface makes it easy for you to manipulate the deep-structure of the reverb by modifying its frequency and time-dependent decay rate as well as the reverb's spread or density evolvement over time.
Sonible stopped using WrapWarden (PACE Wrapper). Legit users should have better performance than before, it almost works like R2R edition :)

It should be easy to crack Mac version now. It does not require you to unpack and rebuild Mach-O executables.
home page
Only registered users can see Download Links. Please
or login.