PreSonus Studio One 5 Professional v5.5.2 / v5.3.0 [WiN, MacOSX]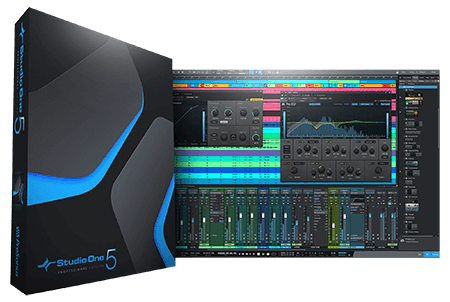 WiN: Team R2R | 13 April 2022 | 141.8 MB
MAC: P2P | 19 July 2021 | 188.36 MB
Record, produce, mix, master, and perform all from a single, intuitive application. Designed with ease of use at its core, Studio One® 5 is your creative partner from studio to stage. Studio One is driven by tools that enhance your creativity without getting in the way; we pioneered its drag-and-drop workflow that continues to be imitated elsewhere. Laborious tasks that take five steps in other DAWs usually only take... One. A popular example: you can convert MIDI to audio and back with a simple drag-and-drop.
The only DAW that lets you compose, record, produce, mix, master, and perform all from a single, intuitive application
NEW! Available standalone or as part of the PreSonus Sphere membership
NEW! Score View for traditional notation
NEW! Perform live with Studio One! Use your recorded assets to bring your studio sound to the live show; play virtual amps live; sequence and re-arrange your Setlist all from the new Show Page
NEW! Completely redesigned Native Effects plugin suite
NEW! MPE/Poly Pressure support for advanced MIDI instruments
NEW! MTC/MMC synchronization
Intuitive single-window work environment with quick and easy drag-and-drop functionality and multi-touch support.
Unlimited audio and instrument tracks, advanced automation features, virtual instruments, buses, and FX channels
Console Shaper emulates the sound of an analog console with control overdrive, noise, and even true channel crosstalk, thanks to Mix Engine FX's cross-channel processing
Chord Track manipulates audio and note data of any or all tracks for Harmonic Editing and song prototyping
Five powerful virtual instruments including: Impact XT drum sampler; Presence XT virtual sample-player; Mai Tai polyphonic analog modeling synthesizer; Mojito monophonic subtractive synthesizer; and Sample One XT live sampler and sample editor
Patterns allow for intuitive drum and melody composition via familiar drum machine/step-sequencer style UI
1. Score Printing
Version 5.1 adds score printing to Studio One Professional. Scores and individual parts can now be printed directly from Studio One! Printing is supported for any number of tracks, from single instruments to full orchestral arrangements. Several other composition enhancements along with Score Printing are featured in this video:

2. Retrospective Recording
Never miss another great song idea again! Retrospective Recording captures everything you play on your keyboard or controller—even without hitting record! It works invisibly in the background on a track-by-track basis.

3. Powerful Track/Channel search and filter options
Managing large projects with a huge track and channel count is now faster and easier than ever with the addition of powerful search and filter options.

4. Bypass option for Clip Gain Envelopes
Clip Gain Envelops can now be bypassed from the Event context menu and the Event Inspector, making it quick and easy to compare the result of your Gain Envelopes without losing any of your adjustments.

5. Combined Time/Key Signature Track
The Score View will reflect any Key Signature changes added to Studio One's new Signature Track. These will also transfer to Notion when sending a score between applications.

6. Secondary Timeline Ruler option
View minutes:seconds with bars and beats at the same time! A must for film composers.

7. Global Tracks in Editors
Global Tracks can now be displayed inside Editors and used as guides when editing audio or Note Events in Piano View and Drum View.

8. External Instruments support on Show Page
External MIDI instruments are now supported using Virtual Instrument Players. Patches can include program change and bank change messages so you can control an entire MIDI rig from your Show!

9. Ampire/Pedalboard Update
Drag and drop stompbox settings between Ampire and Pedalboard, so go ahead and steal that Big Fuzz tone from your guitarist… we won't tell!

10. TONS of Extended Integration with ATOM controller
Note Events in the Pattern Editor are now colorized to match the pad colors in Impact, ATOM and ATOM SQ, so you always know which sound is being triggered and which pad is controlling it. And there's a new library of inspirational drum patterns and variations patterns in Musicloops format for easy, drag-and-drop saving and export.

Too much to list!

Studio One 5.1 is a significant update and is free to owners of Studio One 5 Artist and Professional. Click here for the full change log, and click "Check for Updates" in Studio One's start page to get all these new features now!
Version 5.4.1 Release Notes (October 14, 2021):
The following issues have been fixed:
[Apple Silicon Native] Tuner shows incorrect results
[ATOM SQ] Fixed page numbers for Song, Instrument, and Editor buttons
[macOS] Touch event is offset in plug-in select menu
[Note Editor] Tab to next note not working consistently
32-bit float recording from Capture shows up as 16-bit in Studio One
Alt+Drag in arrangement intermittently crashes S1
BPM from WAV file not properly applied to audio part
Can't drag WAV files to browser to export events with FX
Cancel mixdown keeps rendered part
Crash when closing plug-in editor via touch
Crash with Acustica Audio N4 plug-in
"Cursor follows edit position" option fails when dragging chords from the chord track to the arrangement
Dragging notes from note editor to arrangement delivers unexpected results
Dragging time-stretched audio event with detected chords to instrument track creates event with wrong length
Dragging Splitter from browser search result shows unwanted behavior
Higher audio monitoring latency reported in certain cases
Impact XT inside a multi-instrument creates unwanted noise
Note On not sent to MIDI outputs when MPE enabled
Pipeline 'ping' doesn't work when transport is stopped
Potential crash on system shutdown when Studio One is still open
Scores from Notion using Jazz font are displayed incorrectly
Some automation parameters may be linked to the wrong track with bus automation
SoundCloud browser tab occasionally stays empty
With Plug-in Nap active, reverb tail is cut from certain AU plug-ins
With Show Page in Perform View, pressing space bar to play/stop doesn't work when Setlist is in focus
home page
Only registered users can see Download Links. Please
or login.