PreSonus Studio One 5 Professional v5.3.0 [WiN, MacOSX]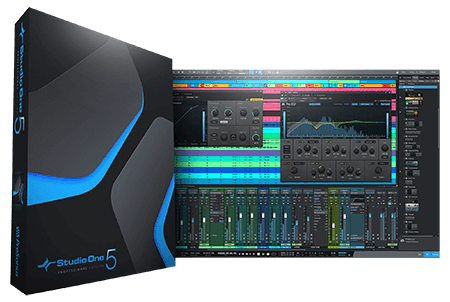 WiN: Team RET | 18 July 2021 | 135.41 MB
MAC: P2P | 19 July 2021 | 188.36 MB
Record, produce, mix, master, and perform all from a single, intuitive application. Designed with ease of use at its core, Studio One® 5 is your creative partner from studio to stage. Studio One is driven by tools that enhance your creativity without getting in the way; we pioneered its drag-and-drop workflow that continues to be imitated elsewhere. Laborious tasks that take five steps in other DAWs usually only take... One. A popular example: you can convert MIDI to audio and back with a simple drag-and-drop.
The only DAW that lets you compose, record, produce, mix, master, and perform all from a single, intuitive application
NEW! Available standalone or as part of the PreSonus Sphere membership
NEW! Score View for traditional notation
NEW! Perform live with Studio One! Use your recorded assets to bring your studio sound to the live show; play virtual amps live; sequence and re-arrange your Setlist all from the new Show Page
NEW! Completely redesigned Native Effects plugin suite
NEW! MPE/Poly Pressure support for advanced MIDI instruments
NEW! MTC/MMC synchronization
Intuitive single-window work environment with quick and easy drag-and-drop functionality and multi-touch support.
Unlimited audio and instrument tracks, advanced automation features, virtual instruments, buses, and FX channels
Console Shaper emulates the sound of an analog console with control overdrive, noise, and even true channel crosstalk, thanks to Mix Engine FX's cross-channel processing
Chord Track manipulates audio and note data of any or all tracks for Harmonic Editing and song prototyping
Five powerful virtual instruments including: Impact XT drum sampler; Presence XT virtual sample-player; Mai Tai polyphonic analog modeling synthesizer; Mojito monophonic subtractive synthesizer; and Sample One XT live sampler and sample editor
Patterns allow for intuitive drum and melody composition via familiar drum machine/step-sequencer style UI
1. Score Printing
Version 5.1 adds score printing to Studio One Professional. Scores and individual parts can now be printed directly from Studio One! Printing is supported for any number of tracks, from single instruments to full orchestral arrangements. Several other composition enhancements along with Score Printing are featured in this video:

2. Retrospective Recording
Never miss another great song idea again! Retrospective Recording captures everything you play on your keyboard or controller—even without hitting record! It works invisibly in the background on a track-by-track basis.

3. Powerful Track/Channel search and filter options
Managing large projects with a huge track and channel count is now faster and easier than ever with the addition of powerful search and filter options.

4. Bypass option for Clip Gain Envelopes
Clip Gain Envelops can now be bypassed from the Event context menu and the Event Inspector, making it quick and easy to compare the result of your Gain Envelopes without losing any of your adjustments.

5. Combined Time/Key Signature Track
The Score View will reflect any Key Signature changes added to Studio One's new Signature Track. These will also transfer to Notion when sending a score between applications.

6. Secondary Timeline Ruler option
View minutes:seconds with bars and beats at the same time! A must for film composers.

7. Global Tracks in Editors
Global Tracks can now be displayed inside Editors and used as guides when editing audio or Note Events in Piano View and Drum View.

8. External Instruments support on Show Page
External MIDI instruments are now supported using Virtual Instrument Players. Patches can include program change and bank change messages so you can control an entire MIDI rig from your Show!

9. Ampire/Pedalboard Update
Drag and drop stompbox settings between Ampire and Pedalboard, so go ahead and steal that Big Fuzz tone from your guitarist… we won't tell!

10. TONS of Extended Integration with ATOM controller
Note Events in the Pattern Editor are now colorized to match the pad colors in Impact, ATOM and ATOM SQ, so you always know which sound is being triggered and which pad is controlling it. And there's a new library of inspirational drum patterns and variations patterns in Musicloops format for easy, drag-and-drop saving and export.

Too much to list!

Studio One 5.1 is a significant update and is free to owners of Studio One 5 Artist and Professional. Click here for the full change log, and click "Check for Updates" in Studio One's start page to get all these new features now!
v5.3.0 New features and improvements:
Musical Symbols playback with Sound Variations
MIDI channel support for Sound Variations
ZIP conversion option for documents including upload to PreSonus Sphere
Chord Track chords to Note Events conversion
Drag & Drop support for Presets and FX Chains on Show Page
Seamless Patch changes on Show Page
Note Controller support for VST3 instruments via VST Note Expression and MPE
Updated manuals in English and Japanese
Updated PreSonus audio interface templates
The following issues have been fixed:
[ATOM SQ] Device script sends Sustain message 2 times
[ATOM SQ] Japanese characters result in blank display cells
[Drum Editor] Transform tool misses last note of a given selection
[Impact XT] Eco Filter causing high level noise with certain samples
[Note Editor] "Fill with notes" in custom pitch range adds unwanted notes outside the range
[Note Editor] In certain situations, "Length / Legato + Overlap Correction" creates unwanted note length
[Note FX] Arpeggiator not triggering with note values less than 1 beat
[Pro EQ²] 12th octave spectrum meter is incorrect
[Pro EQ²] Potential crash when using LowCut at 48dB/Oct
[Project Page] Undo history doesn't call out parameters and values
[Score Editor] "Fill with rests" causes the score to be drawn incorrectly
[Score Editor] Potential crash when repeatedly executing enharmonic respelling tool
[Show Page] "Add Player" commands disabled depending on workspace focus
[Show Page] Selecting a patch containing a splitter creates a phantom splitter
[Sound Variations] "Find and Apply Variation" during recording won't record already activated variation
[Sound Variations] Momentary Sound Variations can be stacked but only the one added last is visible
[Sound Variations] When applying momentary sound variations to a note, the same (momentary) variation can be added several times
[Waves Plug-ins] Graphics may become sluggish when hovering the mouse pointer above plug-in controls
[Windows] Cannot save song when it's selected in the browser
[Windows] Incorrect resizing when moving plug-in window from regular to HiDPI display w/ certain plug-ins
Actions are not aimed at multiple selected events/parts after shift+deselect
Automation follows events may create redundant nodes
Buses jump out of folders in Console when editing their automation
Collapsing a Multi Instrument inside a folder hides Multi Instrument
Commands inside a macro can change behavior if keyboard shortcuts use modifier keys
Compare button does not toggle with 3rd party plugins
Drag & Drop from Steinberg Backbone VSTi not working
VST3 compatibility improvements
Editing an automation curve might show unwanted behavior
"Follow Chords", "Play Overlaps" and Tune Mode doesn't copy over when executing 'Duplicate Track Complete"
Marker list is not shown in Studio One Remote
Mouse wheel is inverted on chord track inspector octave field
Moving an External Instrument Track from one Bus Folder to another loses the Input assignment of its Aux Channel
Outputs to bus reset to Main when folder track is removed
Play Overlaps checkbox doesn't get copied over to new track when using "duplicate track complete"
Potential crash when triggering "Zoom Selected Track" after mixer scene change
Range Select+Copy pastes range at incorrect destination when there is automation data
Renaming audio files fails w/ error message "file is in use" in certain cases
"Show in Context" does not work for effects on browser home page
Small 3rd-party plug-in window is not centered
Tone Generator pops in certain situations
"Transform To Audio" changes the track's Tempo & Timestretch settings to "default"
Team RET Note:
(v5.3.0)
Because certain group is busy for something big.
MAC Release Note:
(v5.3.0)
Special Thanks to: IBU for taking care of the Mac users.
TEAM R2R for the KG.
home page
Only registered users can see Download Links. Please
or login.