Rogue Amoeba Piezo v1.6.3 [MacOSX]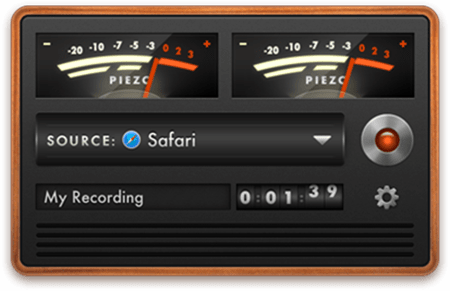 HCiSO | 30 April 2021 | 18 MB
Piezo makes it a snap to record audio on your Mac. In seconds, you'll be recording audio from any application or from audio inputs like microphones.
Piezo requires almost no configuration, and it's a blast to use. Simple and inexpensive - that's a winning combination.
Super Simple Recording
With one click, recording audio on your Mac has never been simpler.
Recording, Demystified
Piezo's simple recording presets mean less worrying about your settings.
Web Audio
Save audio from the web, just by setting a browser such as Chrome or Firefox as your source.
Record Skype Calls
Piezo records from Skype in a single click. Grab from other VoIP clients like iChat and FaceTime too.
Grab From Any App
Piezo captures audio from just about any application playing on your Mac.
Fast Reveal
After recording, click the magnifying glass to reveal your file in the Finder.
DVD Audio
Grab sound bites from DVDs, by setting DVD Player as your source.
Streaming Music
Record from services like Spotify, Rdio, MOG, and more.
Easy on the Wallet
Effortless to use and easy to afford!
Here's Looking at You
Simple and striking, Piezo's charming interface makes recording fun.
Any Movie's Audio
Record from movies playing in any video player, including QuickTime Player, VLC, and many more.
Audio Devices
Hook up any microphone (even your Apple headset) and record from it instantly
PIEZO 1.7.3

Major Updates in ACE 11.7
The Audio Capture Engine (ACE) has been updated to 11.7. Its sample rate converter has been upgraded, drift correction has been improved, and several rare issues have been resolved.

Support for Xcode's Simulator
It's now possible to record audio from Xcode's Simulator with Piezo.

The Quick Tour now properly supports the new "Speak items under the pointer" setting in MacOS 11 (Big Sur).

Improvements have been made for the Installer and Quick Tour, to present better on small resolutions, using scrollbars to make all content accessible.

When Piezo is unlocked by entering a valid license key, in addition to displaying an animation, it will now play a brief celebratory sound for visually impaired users.
home page
Only registered users can see Download Links. Please
or login.