SFX (for Film/TV/Game) / Sound FX (for Music)
Epic Stock Media Christmas and Holiday Sound Library [WAV]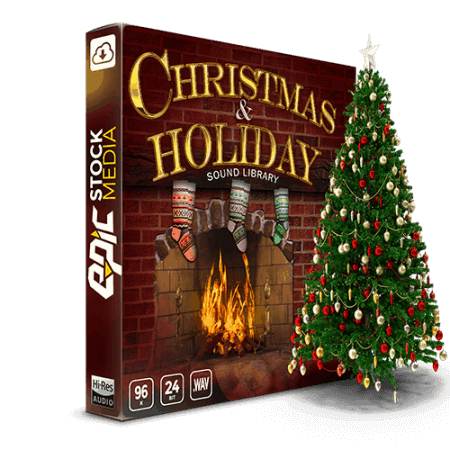 Team DECiBEL | 02 November 2020 | 783.2 MB
'Christmas & Holiday Sound Library' by Epic Stock Media is the result of some busy elves in the sonic workshop this holiday season. It's a complete collection of Christmas and winter holiday sound effects that's perfect for YouTube videos, games, home videos, films, app games, podcasts, theatrical performances, explainer videos or any multi-media production.
Professional or novice, sound engineer or hobbyist, you can save a stockingful of time and immediately boost the quality of any production with this pack. You'll find sounds of jingle bells, sleigh bells, Santa Claus and character voiceovers, Christmas magic sounds, whooshes and transitions, Santa's sleigh fly-bys, fire and fireplace sounds, toys and wrapping presents, garland hanging, beads and bell movements, pick-ups and set-downs, sound of packages opening, paper crumples, sound of curling ribbon, tree decorating and background loops and if you listen closely, you'll even hear Santa Clause after he's had a few too many at the pub! There are over 900 sound effects, loops, source and designed sounds in total, premixed and mastered, and ready to use out of the box.
There's no need to camp out on Christmas Eve trying to lure Santa with milk and cookies, just to get some sounds of ole St. Nick. This is much easier than putting microphones on your rooftop to capture Santa Claus and his reindeer fly by. Much safer too.
If you've ever tried to record Christmas Magic... well, you know it's nearly impossible. So the Epic Stock Media team is here to help and they used Sennheiser 416, AT4033a and Earthworks M30 microphones for all recordings at a 192k sample rate.
Now you can deck the halls of your sound productions with a winter wonderland of sound. Unwrap Christmas & Holiday Sound Library this season and you won't need to stay up all night searching for some illusive Christmas magic. Those hard to find sounds are all right here in crystal clear HD audio quality. Usher in glad tidings and good cheer instantly with this winter wonderland of sound.
Merry Christmas and Happy Holidays everyone!
Product Details:
- Over 1 hour And 40 Minutes Of Sound
- 96kHz/24-Bit WAV Format And 44.1kHz/16-Bit WAV Format
- Includes Soundminer Metadata
- 244 Scripted Dialogue Lines (Voiceovers): Santa Claus, Old Lady, Drunk Santa, Child/Elf like, "merry Christmas, happy holidays, seasons greetings to all" & Much More
- 196 Angelic Chimes, Bells, Tinkles, Clings, Blings, Sparkles, Glistens, Sleigh Bells, Wind Chimes, Glockenspiels, Jingle Bells & More
- 75 Game Sounds Like Ice Break, Bell Notifications, Coins, Awards, Positive Magic Chimes, Treasure Sparkles & More
- 43 Holiday Spirit Loops Like Fireplace, Frosty Winter Wind, Jingle Bell Loops, Coffee Shop, Street Festival, Mall With Kids Playing & More
- 80 Present Foley Sounds Like Wrapping, Opening Box, Handling Paper, Tape, Ribbons etc.
- 122 Toy Cranks Like Dinosaur Movements, Winds, Hums, Spins, Whistles, Shakes, Slinky, Toy Car & More
- 74 Christmas Tree Foley Sounds Like Decorations, Handling Ornaments, Garland, Beads, Presents, Perfect For Setting The Holiday Scene
- 108 Joyful Whooshes & Seasonal Themed Transitions Like Santa's Sleigh Pass-By, Icy Gust Of Wind Whooshes, Magic Bells & So Much More
- 100% Royalty-Free
home page
Only registered users can see Download Links. Please
or login.