Truefire David Henriksson Elektrik Blues [TUTORiAL]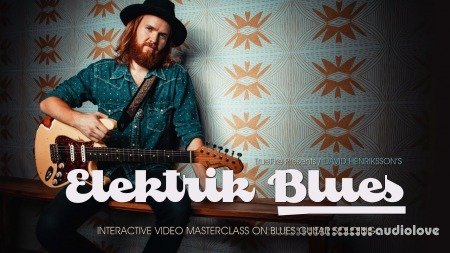 P2P | 04 November 2020 | 6.05 GB
Interactive Video Masterclass on Blues Guitar Soloing
Growing up in Sweden, David Henriksson was heavily influenced by American Roots music played on electric guitar, especially the blues, but he also studied country, rock, and jazz. His ears have always gravitated towards more sophisticated melodic and improvisational approaches played over simpler chord progressions like the ones you find in the blues.
In this course, David will share 10 key approaches and techniques that made a big impact on his playing. Then, he'll apply each of these approaches in a soloing performance study using backing tracks. He performs the solo first and then breaks it down for you in detail.
"The course is organized the following way: First, there's an insight section where I talk about and demonstrate a concept in a more general way. These concepts range from double stops to pedal steel-inspired bends to suspended voicings and more. Then I perform a solo over a backing track, and finally I break down and explain what I did, why I did it and how it works from a theoretical and harmonic standpoint. I hope you'll find many ideas you can add to your own toolbox. The ideas are more important than the specific licks here, so don't necessarily focus on learning every lick in every solo here. Understanding what's going on and how all of the ideas are connected is more important. Have fun!"
You'll work on techniques like double stop applications, dominant harmony approaches, and pedal steel bends. You'll also cover open string lines, tonal variations for the right hand, and ways to add more dissonance and tension to your blues. David will show you applications for triads and triple stops, suspended voicing options, symmetrical fingering patterns, and we'll look at some of my favorite ways to incorporate contrary motion.
David will explain and demonstrate all of the key concepts and approaches along the way. You'll get standard notation and tabs for all of the performance studies. Plus, you'll be able to use TrueFire's learning tools to sync the tab and notation to the video lesson. You can also loop or slow down the videos so that you can work with the lessons at your own pace. All of the backing tracks are included to work with on your own as well.
Grab your guitar and let's get 'elektrik' with David Henriksson!
Includes
42 Video Lessons
20 Charts (.pdf)
10 Jam Tracks (.mp3)
20 Tabs (.gp5 or .ptb)
Runtime: 03:34:39
home page
Only registered users can see Download Links. Please
or login.